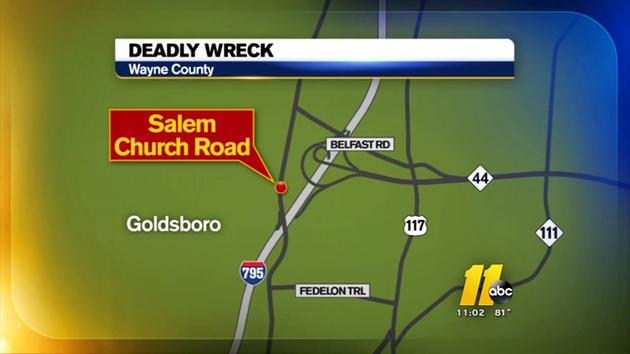 Saturday, September 10, 2016 12:44AM
GOLDSBORO (WTVD) -- Two people are dead after a head-on collision Friday night in Wayne County.

It happened on Salem Church Road near Belfast Road, north of Goldsboro.

The wreck involved a car and a van. Both drivers died, authorities said.

The driver of the car was identified as Grace Edwards, 51, of Pikeville. The other victim was Jerry Davis, 58, of Goldsboro.

Neither driver had any passengers in their vehicles, troopers said.

Troopers also said Edwards crossed the center line and hit Davis' van head on.

Speed was not a factor, a trooper said, but he said it had not yet been determined why she crossed the line.
=========


Two dead after fatal wreck on Salem Church Road
By Ethan Smith
Published in News on September 9, 2016 7:11 PM


Two people are dead after a head-on collision on Salem Church Road this evening around 5 p.m.

Grace Lane Edwards, 51, of Pikeville, and Jerry Lewis Davis, 58, of Goldsboro, died in the wreck, according to the North Carolina State Highway Patrol.

According to trooper C.S. Grainger, Edwards was driving a GMC Sierra truck when she made an abrupt maneuver into the opposite lane and collided with a Ford van being driven by Davis.

"We don't know why she crossed the center line into the other lane," Grainger said.

Grainger said the Ford van swerved to avoid the truck and hit the guardrail, and the truck struck the van, killing both Edwards and Davis.

There was nobody else in either vehicle at the time of the wreck.

Both Edwards and Davis were taken to the morgue at Wayne Memorial Hospital.

Speed was not a factor in the wreck, Grainger said.

State troopers left the scene of the wreck around 6:30 p.m. to notify family members of the victims.

Traffic on Salem Church Road was blocked and rerouted at Belfast Road and Fedelon Trail for more than two hours.

Goldsboro Fire Department, Belfast Fire Department, Nahunta Volunteer Fire Department, Wayne County EMS and Wayne NET responded to the scene.