California Highway Patrol officers arrested a 39-year-old driver in connection with a car crash that killed a 3-year-old boy Friday evening in San Ramon.

Pleasanton resident Yarenit Liliana Malihan, 39, was arrested on suspicion of driving while under the influence and gross vehicular manslaughter, according to the CHP.

The crash occurred around 6:20 p.m. on northbound Interstate Highway 680 near Bollinger Canyon Road, CHP officials said.

A disabled black 2007 Toyota Camry with three children and their mother inside had parked on the shoulder of the highway. Three-year-old Elijah Dunn was killed in the crash.

A white 2008 Toyota Sequoia, driven by Malihan, then crashed into the back of the Camry, according to the CHP.

All three children - including a 1-year-old girl, a 3-year-old boy and an 11-year-old boy - were transported to UCSF Benioff Children's Hospital Oakland. The 3-year-old later died at the hospital, CHP officials said.

The mother of the children, who the CHP identified as Crystal Manoiki, suffered major injuries. She was taken to John Muir Medical Center, according to the CHP.

Malihan was taken to San Ramon Valley Hospital and treated for minor injuries. She was later arrested and booked into the Martinez Detention Facility.

Investigators concluded the small children in the Camry were secured to a child safety seat and all the victims were wearing their seatbelts at the time of the crash, CHP officials said.
==========



Police: Deputy's wife kills 3-year-old in DUI crash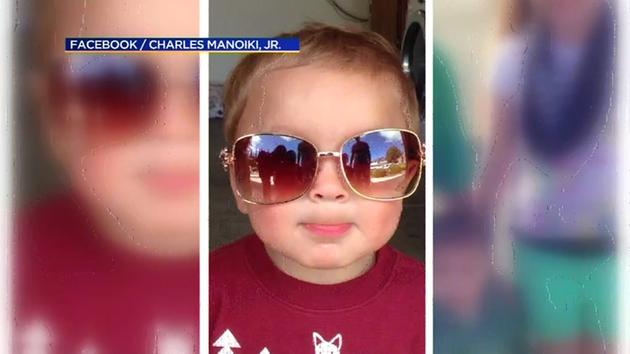 Elijah, 3, was killed when a deputy's wife allegedly smashed into the side of his family's car (KTRK)

Updated 1 hr 8 mins ago
SAN RAMON, CA (KTRK) -- A 3-year-old boy is dead and his mother is fighting for her life after a crash involving an alleged drunk driver.

Charles Manoiki, Jr., says his daughter Crystal ran out of gas after leaving her parent's Sunnyvale home Friday night with her three children, KPIX-TV reports.

They were on the side of the highway and that is when police say Yarinet Malihan crashed into the side of the family's car, killing 3-year-old Elijah.

Crystal was severely injured with a fractured back and six broken ribs.

Her family holds on to hope as she recovers. She is in critical but stable condition.

Meantime, the family must now plan a funeral for little Elijah.

The two other children who were with their mother are out of the hospital and are expected to be okay.

Malihan, meanwhile, is in jail charged with DUI and vehicular manslaughter. Detectives say she is the wife of a Alameda County deputy.
=========





Wife Of Alameda Sheriff's Deputy Arrested After Alleged DUI Crash That Killed 3-Year-Old Boy
September 10, 2016 6:59 PM



SAN RAMON (KPIX 5) — The wife of a local Sheriff's Deputy has been arrested for an alleged DUI after a deadly crash Friday night that left a little boy dead and his mom hospitalized.

The accident happened in San Ramon near the Bollinger Canyon exit on Interstate 680. A family had just pulled their stalled vehicle onto the shoulder of the freeway when a car slammed into them. The impact crushed the car and killed 3-year-old Elijah Dunn.

His grandparents Charles Manoiki Jr. and wife Tina were trying to stay strong for their family on Saturday, but the loss of their grandson has devastated the family.

Elijah would have turned 4 in just two weeks. Now, instead of celebrating his birthday the family is planning his funeral.

"I just had him with me all day yesterday. I was babysitting my grandson. And an hour later, I find out they were in an accident. I'm numb, totally numb," said Charles.

They said their daughter Crystal left their Sunnyvale home last night to drive back home to San Ramon with their 3 grandchildren in the car. They ran out of gas and parked on the shoulder.

The CHP says that's when 39-year-old Yarinet Malihan of Pleasanton crashed into the parked car. CHP officers arrested her for driving under the influence and vehicular manslaughter. She is the wife of an Alameda County Sheriff's Deputy.

Meanwhile, Crystal is at John Muir hospital in stable condition. She suffered a broken bone in her back and 6 broken ribs. The two other children in the car had minor injuries and have since been released from Oakland Children's Hospital.

Through his own grief, Manoiki says his heart goes out to the Sheriff's Deputy. "One day I will forgive your wife, but right now I can't," he said.