Authorities say at least four people have been killed and dozens more injured after a series of tornadoes left a trail of damage in three counties east of the Dallas-Fort Worth area on Saturday evening.

The National Weather Service reported three tornadoes moved through parts of Van Zandt, Henderson and Rains counties.

Canton Mayor Lou Ann Everett cautioned that the death toll, originally put at five, could rise again as search teams go through the extensive wreckage Sunday, including overturned vehicles and destroyed homes.



Everett said there had been 49 tornado-related injuries, including 16 that were reported from the triage center set up at Canton High School.

Everett said the multiple tornadoes that began late Saturday afternoon left "heartbreaking" and "devastating" destruction approximately 35 miles long and 15 miles wide.


In a television interview Sunday morning, Texas Gov. Greg Abbott said he plannned to travel to the affected region later in the day.


Door-to-door searches were underway Sunday, including teams that were dealing with numerous gas leaks and downed power lines and trees.

Rebecca Berkley, spokeswoman for the East Texas Medical Center Regional Healthcare System, said 56 people have been treated at three area hospitals in Tyler, Athens and Cedar Creek Lake. Six remained hospitalized Sunday morning and two of those were in critical condition.

Good Samaritans Rush to Save People After Canton Tornado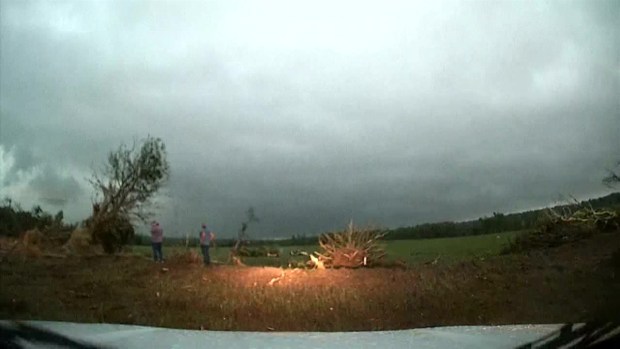 NBC 5 / Telemundo 39 crews were just east of Canton Saturday evening along U.S. Highway 64 moments after the tornado hit. In this video you can see people rushing to help others that had just been thrown from the storm. (Published Saturday, April 29, 2017)

Canton officials asked people to stay away from the area because of the danger of downed power lines and debris.


Canton – in Van Zandt County – appeared to be hardest hit. NBC 5 Meteorologist David Finfrock said the Canton tornado was on the ground for 40 miles – long enough to hit Fruitvale and Emory.


Another tornado touched down outside the town of Eustace in Henderson County.

Jody Vincik captured the tornado outside Eustace during a Facebook live video.



The NWS reported a third tornado in Caney City along Cedar Creek Lake, also in Henderson County.


NBC 5 Meteorologist Grant Johnston was in Texas Thunder Truck as the truck's video feed captured at least tornado on camera in Canton.


Canton Tornado on the Ground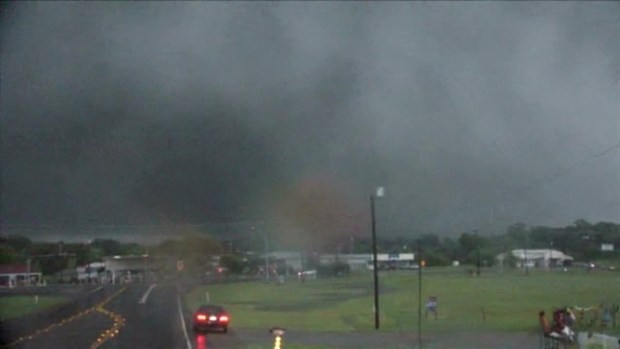 Texas Thunder Truck captured a tornado on the ground in Canton on Saturday, April 29, 2017.(Published Saturday, April 29, 2017)

Johnston reported dozens of cars overturned east of Canton on Interstate 20.

"We have a lot of injuries," said a dispatcher at the Van Zandt County Sheriff's Office. The dispatcher said there was "a lot of damage" before hanging up.

Building Damaged by Severe Weather in Canton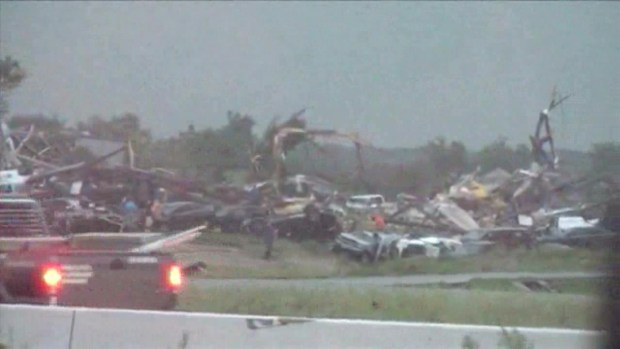 A building in Canton appears to be destroyed by the severe weather that hit the area Saturday evening.(Published Saturday, April 29, 2017)

Damage was also reported in Grand Saline and Fruitvale in Van Zandt County, as well as Emory in Rains County.

NBC 5's Meredith Yeomans reported Highway 80 at Highway 19 west of Fruitvale was shut down.


18-Wheeler Overturned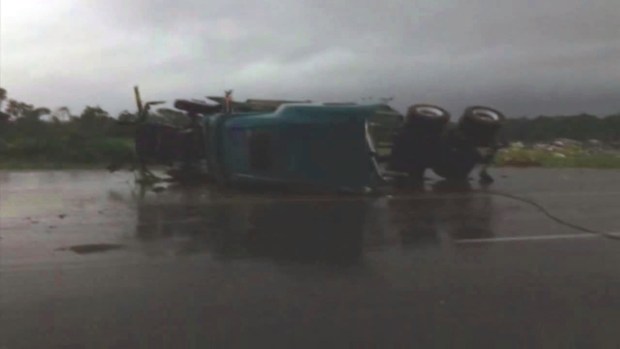 NBC 5 Storm Tracker Sam Barricklow captured an 18-wheeler overturned on Highway 80 between Fruitvale and Grand Saline in Van Zandt County on Saturday, April 29, 2017.(Published Saturday, April 29, 2017)


The First Baptist Church of Fruitvale reported that while the church building is without electricity, there was a lot of damage in the area and that some houses have been destroyed and others damaged. The school across the street from the church was being used as an emergency command center.

Couple Talks About Seeing Canton Tornado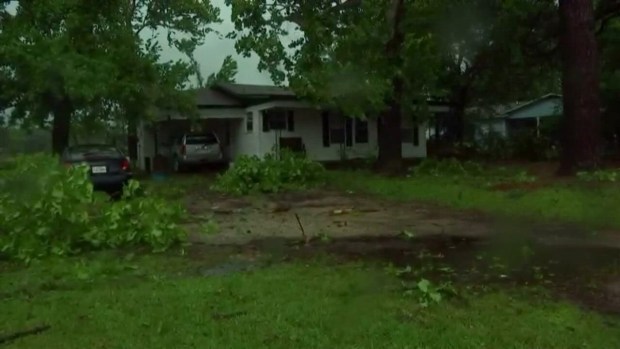 NBC 5's Scott Gordon spoke to Guadalupe and Shauntae Garcia who said they saw and heard the tornado that hit Canton on Saturday, April 29, 2017. They took shelter with their son Dudley.(Published Sunday, April 30, 2017)

Dallas Fire-Rescue told NBC 5 it was sending 15 people to Canton to help firefighters there in the wake of the storm. The Rowlett Police Department and Fire-Rescue also said crews were also en route to Canton.

Gov. Abbott said Texas Task Force 2 was also helping.

The American Red Cross of North Texas will also be responding. A shelter is open at First Methodist Church Life Center at 200 S. Buffalo in Canton.


The Tyler Fire Department reported crews were dispatched to Canton to help with a HAZMAT situation. According to Tyler Fire Marshal Paul Findley fuel and unknown chemicals were released when the tornado hit a warehouse facility.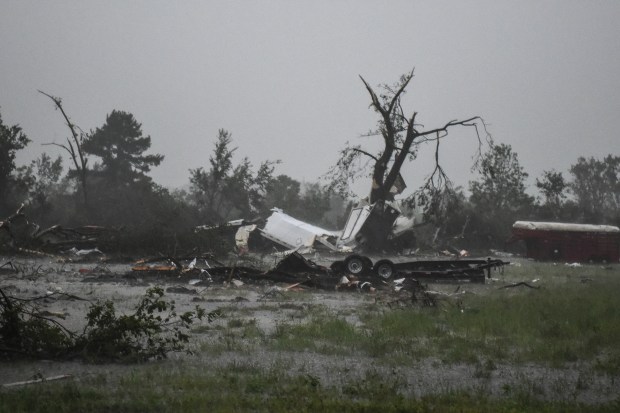 Tornadoes Leave Trail of Damage Across Three Counties


Check back and refresh this page for the latest update. As this story is developing, elements may change.