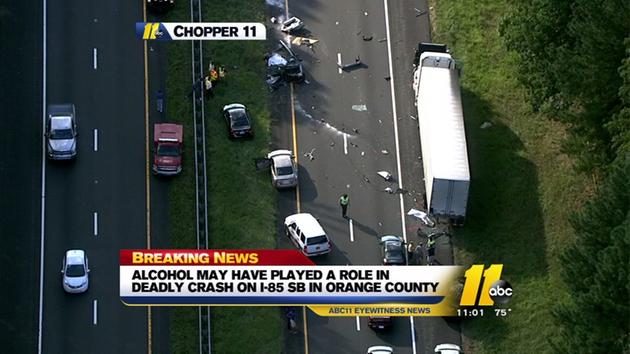 A deadly three-vehicle wreck killed one person in Orange County on Tuesday.

Tuesday, September 13, 2016 11:19PM
ORANGE COUNTY, N

C

(WTVD) -- Alcohol may have been a factor in a deadly three-vehicle wreck in Orange County on I-85 southbound near mile marker 165 Tuesday afternoon.

It happened about 4:15 p.m. Tuesday, when a passenger van, with a driver and front-seat passenger, ran off the right shoulder on I-85 south and struck the rear of a tractor trailer, which was stationary at the time. The van then continued on where it collided into a Toyota pickup, causing the pickup to overturn.

Chopper 11HD was overhead as authorities were on the scene. The silver pickup could be seen in the road, on its side.

The front-seat passenger in the van was killed. Both the driver of the van and Toyota pickup truck were taken to Duke with non-life threatening injuries.

Witnesses told state troopers that before the crash, the van's driver was being careless and reckless. Investigators said they believe that alcohol was a factor in the wreck and charges are pending against the driver of the van.

The identities of the people involved, including the person killed, have not been released by state troopers.

The investigation is ongoing.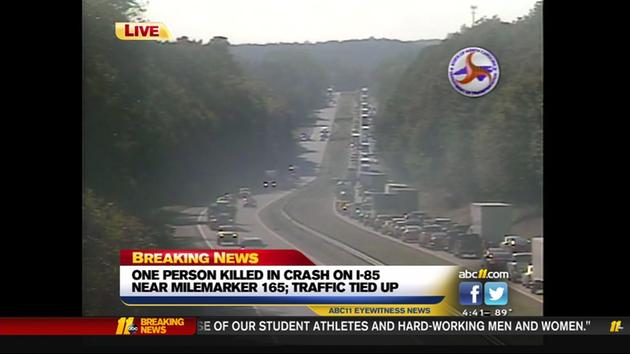 EMBED </>More News Videos
<iframe width="476" height="267" src="http://abc11.com/video/embed/?pid=1510080" frameborder="0" allowfullscreen></iframe>

One person was killed in a wreck near mile marker 165
I-85 southbound remained shut down and traffic was backed up between Durham and Hillsborough for hours.

The left lane reopened about 10 p.m. The right lane reopened about 10:45 p.m. Traffic continued to move slowly.

Troopers were working late to finish analyzing the scene and remove the vehicles and debris from the roadway.