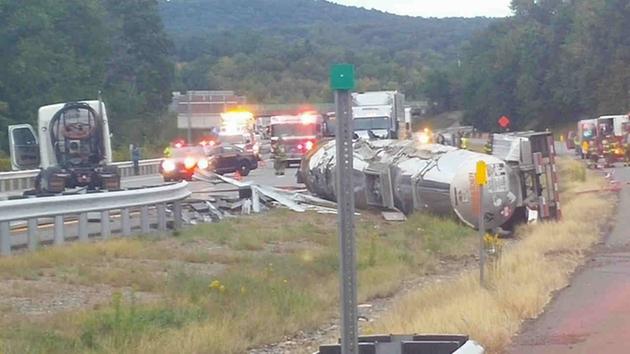 An overturned tractor-trailer on the northbound New York State Thruway shut down the road near Harriman Saturday morning. (NYSP)

======





HARRIMAN — All lanes of the Thruway near Harriman were finally cleared and reopened 12 hours after a tractor trailer carrying a flammable chemical overturned early Saturday morning.

A tractor trailer traveling southbound on I-87 overturned around 7 a.m. Saturday, just before Exit 16, according to a state police press release. All lanes were closed initially as the Orange County haz-mat team worked to contain leaking vinyl acetate, a flammable chemical.


The driver could not say why he veered left and overturned the tractor trailer, State Police Sgt. John Maasz said.

Woodbury Fire Department assisted at the scene, later joined by West Point and Cornwall fire departments. Miller Environmental Services, contracted by the trucking company, also helped with clean up. There was still a lane closed in each direction at 5:45 p.m., but the scene was cleared and all lanes opened at 7:15 p.m.





============
Updated 2 hrs 8 mins ago
HARRIMAN, New York (WABC) -- An overturned tractor-trailer on the northbound New York State Thruway shut down the road near Harriman Saturday morning.

Officials said this is a HAZMAT situation.

The accident happened at 6:45 a.m. The semi was traveling north when it lost control and crossed into the southbound lanes.

Southbound motorists were being diverted off thruway at Exit 17, and northbound drivers were being forced off at Exit 16.

New York State Police and HAZMAT teams are working the area.