Hazmat investigation continues; middle school classes canceled Friday Posted: Sep 07, 2016 4:00 PM EST Updated: Sep 08, 2016 7:16 PM EST
Written by Craig Huber

and Brenda Yahm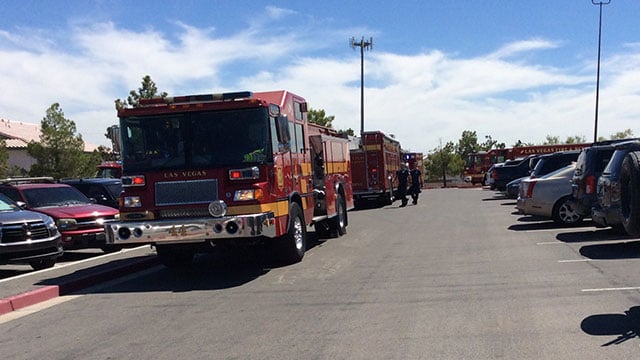 Fire engines arrive at Walter Johnson Middle School on Sept. 7, 2016. (Source: Las Vegas Fire and Rescue)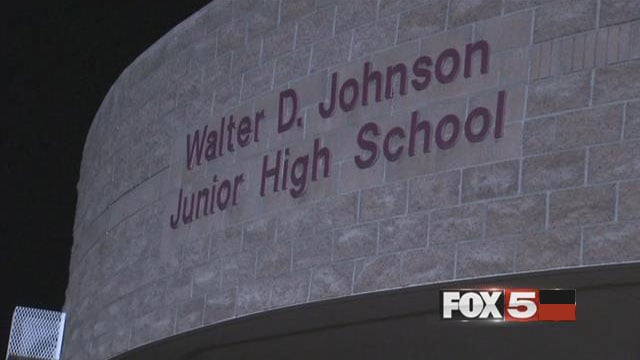 Outdoor signage of Walter Johnson Junior High School is shown during a hazardous materials response on Sept. 7, 2016. (FOX5)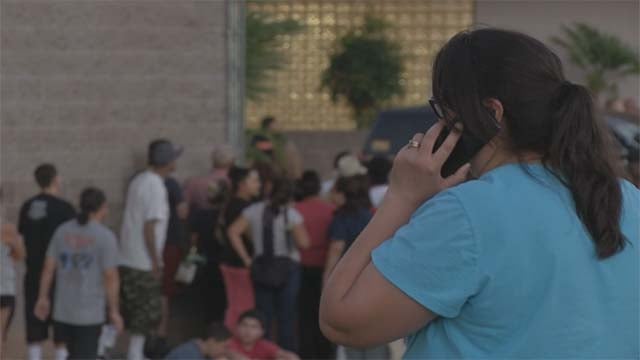 Parents wait outside Walter Johnson Junior High School amid a hazmat investigation on Wednesday, Sept. 7. (Source: FOX5) LAS VEGAS (FOX5) -

Clark County School District will host an open house Thursday evening to answer questions after hundreds of students at a junior high school were kept on campus into the nighttime hours as emergency workers screened them for mercury exposure.

It will be held at Jacobson Elementary School at 8400 Boseck Drive at 6 p.m.

On Thursday afternoon, CCSD officials reported classes at Walter Johnson Junior High School would again be canceled Friday. School officials said the school is being cleaned and decontaminated in order to contain further exposure.

In addition, students' personal belongings such as shoes and backpacks will remain at the school for screening, district officials said.

Las Vegas Fire and Rescue on Wednesday reported a hazmat situation was being investigated at a Las Vegas middle school.

A hazmat crew was sent to Walter Johnson Junior High School, located at 7701 Ducharme Ave., near Buffalo and Alta drives, after noon.

The department said that no students were threatened and the crew was surveying the situation.

According to Clark County School District spokeswoman Melinda Malone, students and staff potentially exposed to the substance were being quarantined as a precaution. In addition, she said parts of the school, including the gym, have been temporarily closed off.

Still, Malone said, the school day was going on as usual.

Las Vegas Fire and Rescue spokesman Timothy Szymanski identified the substance as a small amount of mercury that was in an old thermometer.

As of 2 p.m., students were not being released. A few dozen parents arrived at the school to pick their children up.

Representatives from the Environmental Protection Agency were summoned to the school.

About 6:25 p.m. Wednesday, school officials reported students were being released. They additionally reported EPA officials would be collecting shoes and backpacks belonging to students and staff members. Students' belongings will be returned at a later time. Each student had to be screened and cleared before being dismissed.

School officials said classes at the middle school were canceled Thursday as a precautionary measure.

The following message was sent to parents of Johnson Junior High School students Wednesday afternoon:

Dear Parents:

Johnson Middle School had a chemical element mercury contamination on campus today. We believe the mercury was brought onto campus by a student.

According to EPA guidelines, all students must be tested before they can go home.

Safety is our top priority and we want to make sure students are safe to leave the school.

No one is in immediate medical danger, the goal is to contain exposure.

Food will be provided to students via CCSD's food service department.

When your child has been cleared he or she will call you so that you can pick your student up. If you cannot provide transportation and your child normally rides the school bus, transportation will be provided via CCSD transportation.

Students will be released for pick up on the west side of the school.

We apologize for the inconvenience but need to keep our school and staff as safe as possible.

We will provide additional messaging as soon as we can.

As nighttime fell, remaining students were still being screened and several parents stood by on campus to wait for the children to be cleared. Some were even held into early Thursday morning.

In all, about 16 hours passed from the initial call to the last student screening.

Stay with FOX5 for updates.

Copyright 2016 KVVU (KVVU Broadcasting Corporation). All rights reserved.
Trending Articles



===========





LAS VEGAS (KSNV News3LV) — Walter Johnson Middle School remained closed Friday as the Environmental Protection Agency continued testing and investigating how mercury ended up in the hands of students on campus.

A morning press conference with CCSD Superintendent Pat Skorkowsky revealed very little new information, only that the investigation is ongoing and that the source of the contamination is still being determined. Superintendent Skorkowsky said he hopes to have kids back in the classroom by Monday, September 12.

When asked about a timeline for the cleanup, Skorkowsky said, "It is concerning but you'll have to remember, we're working with a lot of unknowns here. So we're trying to put the pieces of the puzzle together, trying to figure out exactly how it came about."

"On Monday, well sit down and talk about what could've happened, what should've happened and how things could be approved if there is a next time," he continued.



During a meeting with parents, CCSD Police, and the EPA Thursday, one father revealed that his son came home and told him that he had been playing with a chemical on campus at the school five days before it was reportedly found.


Michael Durkin said his son touched the chemical inside the gym on Friday the previous week, along with three other students. The claims lined up with the EPA's information which revealed that the chemical had spread throughout the campus, not just the gym area.

Friday, News 3's Kelsey Thomas caught up with one student who says he was one of the children who played with the substance last week.



6th grader, Bryan Orellana said he was one of the students who found the substance under the bleachers in the gym.

"We didn't know what it was and then we ended up trying to tell the teacher. Us being fools, we touched it and everything and ended up being yesterday that they found out what it was," said Orellana.



Orellana told News 3 he tried several times to tell a teacher in the gym about the discovery, but that the teacher was busy doing other things.

"He did nothing. We tried telling him but he was distracted," he said of the encounter. "We're like here come check it out and he's like just go throw it in the trash."

Orellana's mother said she couldn't believe that the teacher didn't take the reports more seriously.

"They just left it and they we're playing with it with their hands, their folders in their backpacks, their shoes, everything. And the teacher just brushed it off like it wasn't a big deal so they figured oh he doesn't think its a big deal, so it's not a big deal," said Nicole Orellana.

Parents and students arrived on campus Friday to drop off shoes and clothing that may have been exposed to mercury over the last week. They carried large trash bags into the building for the EPA to evaluate.

"They're putting a wand in and making sure everything is okay," explained Noah Mason, an 8th-grade student. "I wanted to make sure all my stuff was okay and nothing was getting around in my house either."



Mercury does evaporate, and the EPA described its molecules as little balls that bounce off of clothes and shoes, spreading throughout the area.


Many parents have also said that they are frustrated over a lack of communication. One parent News 3 spoke with praised the efforts of students, teachers, and the administration.

"It was unexpected. They didn't plan for this to happen. And its just something unfortunate to happen. They did the best they could do. Thats the way I look at it. It couldve been a lot worse," said Jeff Lewis.

CCFD officials have admitted that they don't know what or where the mercury originally came from, or even how it ended up on campus.









===============



Mercury decontamination effort at Walter Johnson Jr. High the largest in LVFR history
By Kyndell Nunley & Kelsey Thomas Thursday, September 8th 2016


Decontamination effort at Walter Johnson Junior High was the largest in the history of Las Vegas Fire and Rescue history. 9/8/16 (Kyndell Nunley | KSNV)






LAS VEGAS (KSNV News3LV) — After a nearly 17-hour ordeal, students who were exposed to mercury at Johnson Junior High School were released this morning to their parents. Las Vegas Fire and Rescue said that it was the largest decontamination effort in the history of the department. 100 first responders were called to the incident to help screen and decontaminate 1,200 students and 100 staff members inside of the school.

Thursday afternoon, CCSD told News 3 school will be canceled again on Friday. They are unsure when students will be allowed back on campus. In a letter addressed to parents, the school also addressed student belongings left behind during the initial decontamination efforts:

"Regarding students who needed to leave their personal belongs at the school (shoes, back packs, etc.), please know that these items will remain at the school so they can be screened. A school staff member will be in contact with parents if personal belongings have been cleared to leave the school."

CCSD said they are also still working on identifying where the mercury originated and how much was brought to school.


"The amount we're were dealing with was the equivalent of an old school thermometer," said Captain Ken Young with CCSD School Police.

During a news conference Thursday morning with CCSD Police, Las Vegas Fire & Rescue, and the Environmental Protection Agency, the agency assured those in attendance that after scanning each person inside the school, everyone went home safe. CCSD Police did reveal that 9 students and 3 staff members were quarantined for a time, but were deemed clean by the end of the night.


"Parents we understand we understand we understand how frustrating that was to have your students in the school where you couldn't get to them," said Captain Young. "Our overall goal was to ensure that the kids had very limited exposure and they did not take any of the toxin home with them."

Parents and residents who still have questions are encouraged to attend an Open House at 6 p.m. at Walter E. Jacobson Elementary School, 8400 Boseck Drive (near Alta and Durango).


Parents and children were reunited around 3:30 a.m. The EPA admitted that the process was a long one to make sure there was no potential contamination outside of the school building. Some students went home shoeless.

"Our goal was protecting human health and it's a long process but we were successful in that," said Randy Nattis with the EPA.

"We thought we would be in and out of the school but once we started doing readings, and finding levels throughout the school, the level of concern was raised. and said we need to take this a step further," said Captain Young.

Thursday, the EPA will begin assessing belongings left behind at Walter Johnson Junior High.


Las Vegas Fire & Rescue was notified around 11:40 a.m. Wednesday about the liquid at the School, 7701 Ducharme Ave., near Alta and South Buffalo drives.



Parents started to become concerned once they started to show up to the school and could not get their students.


Mercury Spill Instructions

Clark County School District officials sent the following letter to parents regarding the incident:


Dear Parents:

Johnson Middle School had a chemical element mercury contamination on campus today. We believe the mercury was brought onto campus by a student. According to EPA guidelines, all students must be tested before they can go home. Safety is our top priority and we want to make sure students are safe to leave the school. No one is in immediate medical danger, the goal is to contain exposure. Food will be provided to students via CCSD's food service department. When your child has been cleared he or she will call you so that you can pick your student up. If you cannot provide transportation and your child normally rides the school bus, transportation will be provided via CCSD transportation. Students will be released for pick up on the west side of the school. We apologize for the inconvenience but need to keep our school and staff as safe as possible. School Police are on-site and are assisting in reuniting parents and students. Classes at Walter Johnson Middle School will be canceled tomorrow, September 8, 2016. The closing of the school tomorrow is precautionary to ensure that the school can be cleaned before students return. Please know that safety is our top priority.

Thank you for your patience. We know this has been a challenging day, and we are thankful for the cooperation of our students, staff, first responders and our community.

Dr. Daliah Wachs says symptoms of mercury to watch out for is fatigue, muscle twitchiness, mood swings, nervousness, headache, and insomnia. Higher levels of mercury could do more harm.