LAKE FOREST, Ill. (WLS) -- The rain has ended, but the water is still rising in the north suburbs and flooding problems over the next 48 hours could be very dangerous.

Officials in Lake County, Ill., declared a state of emergency due to severe flooding.

Lake County Board Chairman Aaron Lawlor signed a proclamation late Wednesday night that said flooding created a disaster in the county. It was sent to Illinois Governor Bruce Rauner and the Illinois Emergency Management Agency.

Lawlor said county officials will coordinate with local authorities to get help to people who need it. He also asked the public to watch for updated on Lake County's Facebook page. https://www.facebook.com/LakeCountyILGov/

Chopper 7HD flew over a sinkhole Thursday that formed on Gages Lake Road near Leonard in north suburban Gurnee.

Chopper 7HD flew over a sinkhole Thursday morning that had formed in Gurnee near Gages Lake Road and Leonard Drive, just east of Hunt Club Road. The area has been blocked off to keep people safe.

Six Flags Great America is expected to be open Thursday. The theme park closed Wednesday afternoon because of flooding in the area.

The Chicago Botanic Garden will be closed Thursday due to flooding. Check www.chicagobotanic.org to see when the garden will re-open.

PHOTOS: Flooding causes problems in north suburbs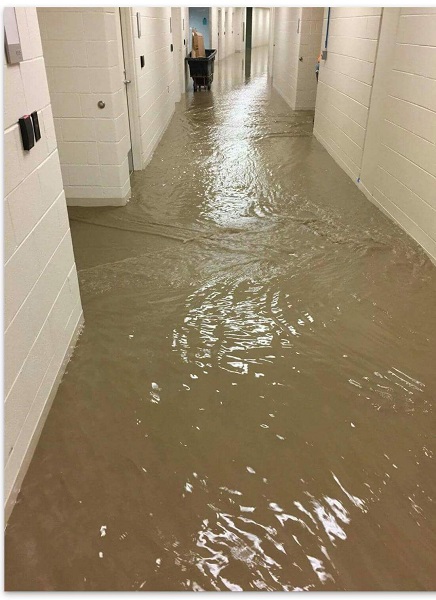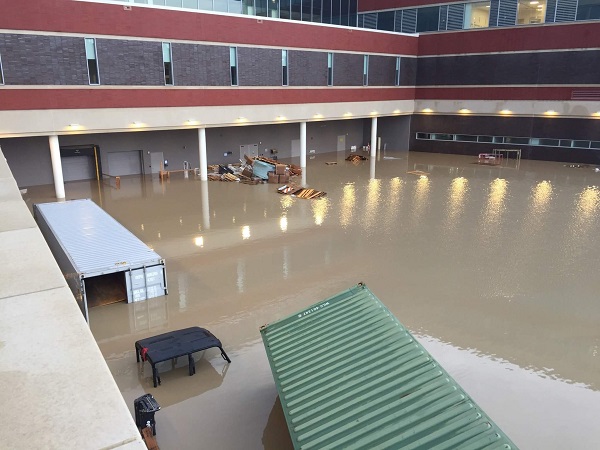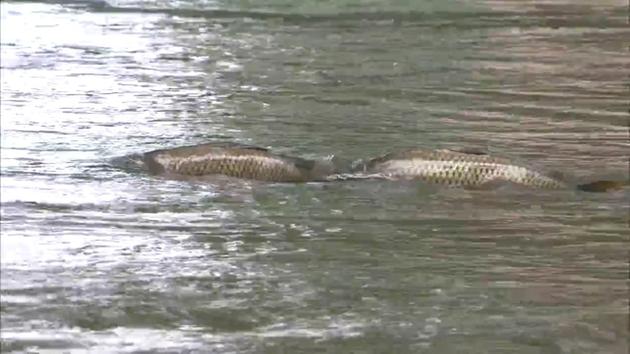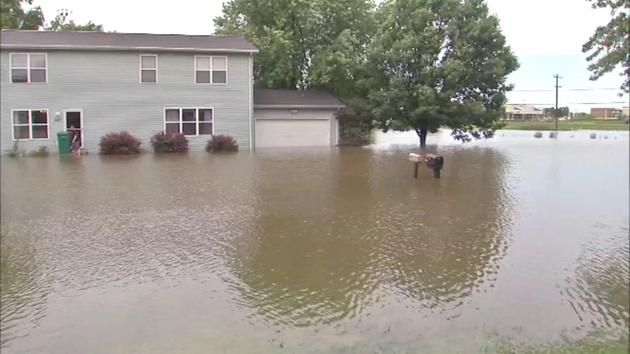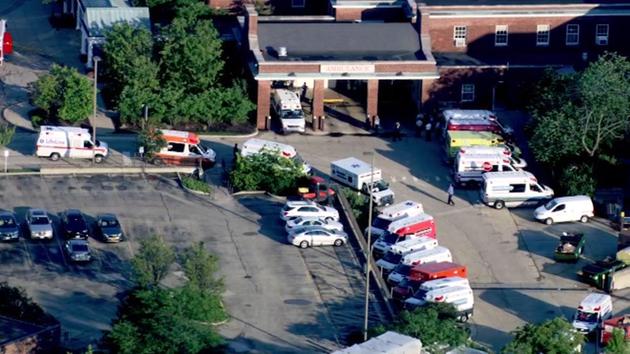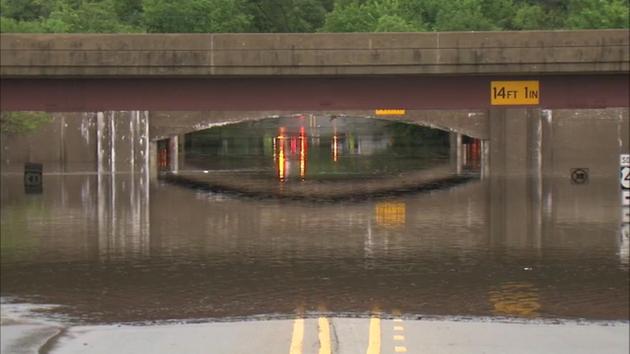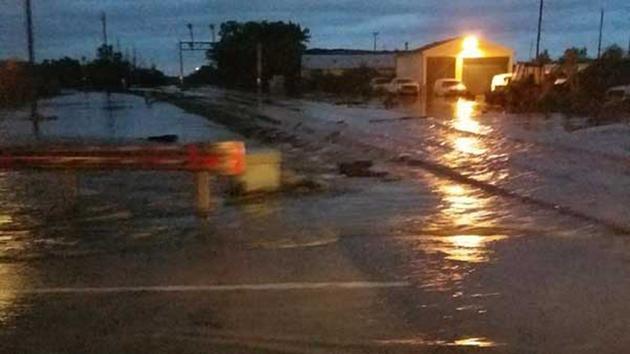 Flooding inside Northwestern Lake Forest Hospital.

There's a state of emergency this morning in Libertyville. The city got more than 7 inches of rain. Chopper 7HD was over the area as people pumped water from their flooded homes and yards.

The mayor of Grayslake called this event a "100-year flood", since more than four inches of rain fell there in under three hours. Crews continued to clear drains and ditches Thursday as high water threatens to stall cars. Officials told motorists not to drive through standing water.

Round Lake residents used canoes to get around neighborhood streets.

DES PLAINES RIVER, FOX RIVER TO RISE

People are expected to return to the Warren Township Highs School parking lot Thursday to continue filling sandbags.

"We've had residents, even if they weren't able to help sandbag, they bought water. A group set up a lemonade stand to help everyone out," said Jack Linehan, Village of Gurnee.

The Des Plaines River reached a new record high Thursday in Lincolnshire, the National Weather Service predicts.

The previous record in Lincolnshire of 16.36 ft. was set on April 19, 2013. The river reached 16.53 ft. before 7:15 a.m. The river is expected to reach 17.5 ft. in Lincolnshire sometime between Friday evening and Saturday morning.

In Gurnee, the Des Plaines River had reached 10.87 ft. by 7:15 a.m. The record level in Gurnee is 11.9 ft., which was set on Sept. 27, 1986. The river is expected to reach 12 ft. in Gurnee sometime between Friday night and Saturday morning.

In Des Plaines, the river had reached 18.86 ft. by 7:15 a.m. The record crest in Des Plaines of 20.92 ft. was also set on April 19, 2013. The river is expected to reach 21 ft.

The Fox River is also expected to continue rising Thursday.

In Algonquin, the river had reached 10.38 ft. by 7:30 a.m. The record level in Algonquin of 12.70 ft. was set on April 23, 2013. The river is expected to reach 13.5 ft. sometime between Monday and Tuesday of next week, if more rain falls in the area.

In Montgomery, the river had reached 13.63 ft. by 7:30 a.m. The record crest in Montgomery of 15.14 ft. was set on April 18, 2013. The river is expected to reach 14 ft. on Saturday.

NORTHWESTERN LAKE FOREST HOSPITAL RE-OPENS

Power was restored Thursday morning at Northwestern Lake Forest Hospital.

Power was restored Thursday morning at Northwestern Lake Forest Hospital. The hospital was evacuated Wednesday as the flooding put patients in danger.

The power first went out around 4:30 p.m. Wednesday, officials said. Approximately 70 patients were transported via ambulance to other area hospitals. Patients in the Intensive Care Unit were the first to move.

ComEd told ABC7 Eyewitness News crews repaired the damage and restored power just before 9 p.m.

Officials said the hospital may be back open Thursday, but as a precaution, it will be closed to clinical operations. Ambulances have been instructed to route to other local hospitals.

IMPACT ON CHICAGO AIRPORTS

The weather affected Chicago's airports Wednesday. More than 700 flights were canceled Wednesday at O'Hare International Airport.

As of 6 a.m. Thursday, 36 flights were canceled at O'Hare and two flights were canceled at Midway International Airports. Delays averaged less than 15 minutes at both airports.

ABC7 Meteorologist Tracy Butler said the weather will be warm and muggy to start Thursday, with rain possible far south of the city. The sun is expected to return gradually and the humidity will decrease slowly. High temperatures will be in the mid-80s.


====================



Rorrential rains pounded Lake County overnight Tuesday into the Wednesday morning commute, with flash flooding closing major roadways, shutting down Six Flags Great America and the College of Lake County, swamping basements and forcing the evacuation of residences from Mundelein to Fox Lake.

Flooding continued as the first wave of overnight storms was compounded by another set of storms that moved through at 7:30 a.m. Wednesday followed by a third at noon.

For some Lake County residents experiencing flooding, it wasa matter of waiting for the water to retreat, so they could take stock of the damage.

The National Weather Service maintained a flood warning during the day for southern Lake County and along the Des Plaines River, which, like the nearby Fox River, saw levels rise significantly during the rainfall.


The Des Plaines River was projected to rise above record levels Thursday afternoon, according to the NWS. The Gurnee location reached 10.5 feet Wednesday afternoon and is projected to rise another 2 feet, topping the 11.9-foot record.

An alert to Gurnee residents sent at 8 a.m. Wednesday said the village was "in an emergency flood response."

The statement added that sandbagging supplies are available to residents at the Public Works Facility, 1151 Kilbourne Road.

Riverwoods officials also warned residents who live near the Des Plaines River that a significant amount of water was expected to travel downriver as evening approached.

Sandbags were set to be delivered to Riverwoods Village Hall, 300 Portwine Road, and instructions were sent to residents with directions on how to pick up the bags.

The early morning activity included trained spotters with the NWS reporting that flooding 8 to 10 inches deep was recorded at West Division Street and North Lincoln Avenue in Mundelein at 6 a.m., with "numerous houses flooded and people rescued by rafts."

By 9:15 a.m., about 40 were at the Mundelein police station in a makeshift shelter, said Eric Guenther, Mundelein's director of public safety.

Two apartment buildings had to be evacuated with the help of a raft that carried three to four at a time, Guenther said.

An apartment building at 200 N. Lake St. that houses senior citizens was evacuated at 3:30 a.m., Guenther said, saying everyone was evacuated by raft.

Another apartment building at 361 S. Walnut St. was evacuated by 8:30 a.m., Guenther said. That building was flooded after an adjacent retention pond overflowed.

"Those people couldn't stay in their apartments because water had risen above electrical outlets and compromised the entire electrical system," Guenther said. "It created a serious safety risk."






Lake County was hit hard by torrential rain that caused flash flooding throughout the area early on July 12, 2017. (Chicago Tribune)

Nearly the entire Mundelein police and fire departments were on duty. He said the department held over overnight shifts and called in daytime shifts early.

One Mundelein firefighter was sent to Condell Medical Center in Libertyville for exhaustion. No residents needed medical aid, Guenther said.

In Fox Lake, Deputy Fire Chief Ed Lescher said a man who thought he was struck by lightning called for help in the 33500 block of Route 12 Wednesday.

"He was awake and talking. We're not sure if he was struck or it just struck near him and he felt the jolt," Lescher said, adding that the man did not have any burns.

Lescher said the lake and river levels in and around Fox Lake are at flood stage with more rain possibly on the way.

"We have gotten a lot of rain. We have sand and sand bags at the public works department, and volunteers are filling them now," he said Wednesday afternoon.

While Fox Lake reported no other injuries, first responders did rescue people from flooded homes on the north side of Long Lake and other areas. They were also assisting gas and electrical crews with shutting off power and gas to the homes where they rescued people.

Fox Lake Village Administrator Anne Marrin said while lake and river levels are rising, it's the surface water that posed a problem along Grand Avenue, Route 12 and Rollins Road.

"We are watching the lake and river levels," she said, adding that New Munster in southeast Wisconsin got 7.2 inches of rain upriver from the Chain O'Lakes. It usually can take a day or two for rainfall in Wisconsin to show up in Lake County's waterway levels.

John Hartl of C.J. Smith Resort on Grass Lake, part of the Chain O'Lakes, had to close his business Wednesday morning because his docks and boat ramp were under water.

He said in a Facebook post that he had never seen the lake levels rise so fast, and it was starting to creep toward the resort cabins on his property. The business was first established in 1929.

According to the Fox Waterway Agency, the entire waterway system of lakes and the Fox River were in a no-wake phase Wednesday, and there is a debris advisory out.

Waterway officials reported there are submerged docks on the Chain, and there have been boats that pulled free from moorings and were drifting.

Waterlogged homes

Diane O'Brien, who lives a block from the Mundelein police station, was outside when the fire department had to use boats to rescue senior citizens from a nearby facility.

"I saw them evacuated," she said. "The water came in from outside because it had nowhere to go. We tried to keep people from trying to drive through."

Her basement had 8 feet of water in it at one point y Wednesday, she said. She tried to reserve a pump at 3 a.m. from a local rental company, but when she arrived, they had rented them all.

"This is a record," said O'Brien, who has lived in Mundelein 35 years. "I've never seen this much water and rain. ... It just didn't stop. It was amazing."

She said she was thinking about going to a hotel, and her husband, out of town on business, was trying to get back home.

"Everything is gone from the basement — the furnace, hot water heater, washer and dryer. It really stinks," she said.

By 12:30 p.m. Wednesday, business at the Lake Forest True Value Hardware, 825 S. Waukegan Road, was four times what it normally is, and gear to help combat flooding was selling out, said the store's manager Chris Morgan.

"We're out of everything I can think of," Morgan said. "Floor fans, shop vacs, submersible pumps, sump pumps. I have a guy headed to my warehouse to refill my shelves. When its treacherous for everyone else, it's good for hardware stores."

The village of Gurnee warned in a Wednesday statement that anyone with flooded basements to contact the village or ComEd to have the power disconnected before entering the basement.

Traffic swamped

Flooding also snarled Wednesday morning rush hour and kept roads backed up through the morning.

A portion of Route 45 near Division Street in Mundelein was closed during the early morning and was briefly reopened before a second wave of storms rolled in at 9 a.m and closed the road again, Guenther said.

Portions of Allanson Road in Mundelein were closed, and two blocks of Division Street were under water, Guenther said, adding that "we've got disabled vehicles all over town."

In Lake Forest, Deputy Police Chief Rob Copeland said public works employees were called in at 3 a.m. to assist with closing down flooded roads.

"We're just trying to control traffic," Copeland said.

Among the most heavily flooded intersections in Lake Forest were Deerpath Road and Route 41, Owentsia Road and Poplar Court, and Westleigh Road near Woodlands Academy.

"Anywhere with low-lying areas is flooded out," Copeland said. "A lot of driveways on Waukegan Road are flooded, and people can't get back to their houses."

Two vehicles that attempted to drive through standing water flooded and stalled, Copeland said. The stalled vehicles were stuck on Route 41 near the Owentsia Road curve and Westleigh near Woodlands Academy, he said.

Farther south in Lake County, the city of Highland Park reported some roads in the Centennial Park neighborhood north of Half Day Road and just east of Route 41 were impassable as of 11 a.m.

The city also warned against using Trailway Street from Half Day Road to Parkside Avenue and closed the southern end of Summit Avenue. The area lies near the Skokie River watershed.

Other roads closed Wednesday morning in Highland Park included Tanglewood Court north of Lake Cook Road, York Lane near Berkeley and Ridge roads, and Briargate Drive, which runs along the Middlefork of the North Branch of the Chicago River, according to an alert.

The Lake County Division of Transportation reported that major road closures during the morning included Route 41 at Westleigh Road in Lake Forest; sections of Route 45 including at Peterson Road in Libertyville and at Gages Lake Road in Gages Lake; Route 120 at Hunt Club Road in Gurnee; and several sections of Route 137 including between Route 21 and St. Mary's Road in Libertyville and Green Oaks.

Weather also shut down both inbound and outbound Metra trains on the Milwaukee District North line between Fox Lake and Libertyville temporarily, according to a Metra alert. Some shuttle service was provided between Lake Forest to Chicago.

At Six Flags Great America on the west side of Gurnee, officials posted a statement on park's website Wednesday afternoon that the park had closed for the day.

"Due to flooding in the surrounding area, we made the decision to close the park today at 1 p.m." park spokeswoman Tess Claussen said in a statement. "The park is not flooded, and we plan to reopen as normal for our guests (Thursday)."

Regional flooding and the threat of more rain late Wednesday prompted College of Lake County officials to cancel afternoon and evening classes at all three campuses, Grayslake, Vernon Hills and Waukegan.

"The College of Lake County is canceling classes with a start time of 2:30 p.m. or later today at its three campuses," CLC officials said in a statement, adding that all campuses would close by 4 p.m.

Also closing its doors was the Warren Newport Library on O'Plaine Road in Gurnee, which announced that it would close at 5 p.m. Wednesday, remain closed all day Thursday and re-open on Friday at 9 a.m.