Michael Tolve and his daughter
Michael Tolve's daughters, as posted by him on his Facebook page
QUEENS, New York (WABC) -- Police have arrested a striking Spectrum employee and charged with him the June 26 vandalism that left tens of thousands of customers without service in Queens.

Authorities say Michael Tolve was arrested at his Wantagh home Wednesday and charged with criminal mischief.

He allegedly cut fiber optics cables and then stole a memory card from a surveillance camera in an effort to cover up the crime, which caused more than $67,000 in damages to the equipment and left 60,000 customers without TV, internet and phone service.

Sources say Tolve, a fiber technician with the company for 14 years, was acting alone and was caught on other cameras.

Cables had also been cut at the end of April and a third time on July 11. So far, Tolve has not been linked to either of those incidents.

A spokesman for Charter Communications, which owns Spectrum, said cables have been cut 106 times total in the Spectrum network since cable technicians went on strike on March 28. They have reported all 106 cases to the police since the vandalism is criminal in nature.

UPDATE: Some reports indicate that Mr. Tolve was released without any criminal charges at this time. We will report of any developments.
=================
Spectrum restores service after Queens outage that affected 60,000 customers



Diana Williams has more (Photo/Shutterstock)

By Eyewitness News
Tuesday, June 27, 2017
QUEENS, New York (WABC) -- Spectrum says it has fixed a major TV, internet and phone service outage that affected tens of thousands of customers in Queens.

Charter Communications, which owns Spectrum, said crews repaired a fiber-optic cable that was damaged by vandalism. Some cable techs who have been on strike since the end of March showed up Monday night to picket at one of the repair sites.

The outage happened at about 2 a.m. Monday and immediately knocked out service for a significant number of customers in central Queens.

Queens Borough President Melinda Katz posted a message on social media about the situation:

"Per @Spectrum, at approximately 2AM today, vandals cut fiber at 4 major hubs, cutting service for 60,000 customers in #Queens."

A spokesman for Spectrum issued a statement Monday, saying service was expected to be returned by the evening evening, but that crews were still working to repair service.

"Our crews are on site and working to repair a fiber optic cable damaged by vandalism, which is affecting TV, internet and phone services for Spectrum customers in central Queens. We appreciate our customers' patience while we restore service as quickly as possible."

Downdetector.com, a website that tracks major outages, showed a significant portion of NYC without service - though the company said the outage was limited to Queens
Many former and current employees of Spectrum claim that there is no vandalism involved and that all the outages are caused by bad technicians and by Con-Ed cutting cables and so on. You can find a lot of that stuff as has been twitted by Mr. Tolve. Here is his twitter account:
https://twitter.com/harley524
Ofcourse Charter will blame "vandalism" deflecting from their own unqualified, replacement workers #Spectrumstrike

http://

abc7ny.com/amp/technology
Spectrum is lying to their customers. Unqualified Scab replacement workers are the culprits. #SpectrumStrike #Local3
Ridiculous! Would never have happened with experienced #Local3 techs! #SpectrumStrike #IWantMyLocal3 #SpectrumLies #BlameGame
================
Michael Tolve Arrested in outage-causing cable vandalism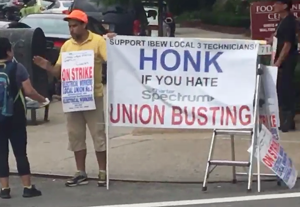 SCREENSHOT OF VIDEO BY DANIEL PINCHASOV

A man urges support for striking Spectrum technicians in Forest Hills as nearby workers work on repairing a damaged fiber optic cable that caused an outage.


Posted: Thursday, July 13, 2017 1:40 pm | Updated: 2:07 pm, Thu Jul 13, 2017.

by Ryan Brady / Associate Editor


A Long Island man has been arrested for allegedly vandalizing a fiber optic cable that caused a massive outage for Spectrum customers last month.

The NYPD told the Chronicle that Michael Tolve, 48, of Wantagh, LI, has been charged with criminal mischief. He was arrested last night around 10:45 p.m. in the 107th Precinct. His Wantagh address is
2851 Michael Rd, Wantagh, NY 11793.

The outage affected around 60,000 Spectrum customers in Queens on June 26.

According to Charter Communications, which operates Spectrum, Tolve is a member of the union that has been striking against it, International Brotherhood of Electrical Workers Local Union 3.

"It's disappointing that one of our employees would unlawfully sabotage the infrastructure we all work so hard to maintain and inconvenience our customers in this way," Charter spokesman John Bonomo said in an email. "We intend to support the prosecution of these crimes to the fullest extent of the law, as they put our customers' well-being in jeopardy, cause local business to suffer, and are a general inconvenience for all."

The union did not immediately return a request for comment, though this week it denied responsibility for another outage, which also affected central Queens customers, that occurred Tuesday because of vandalism.

UPDATE:

This story has been updated to include a comment from Charter Communications.