WEST DEPTFORD, New Jersey (WABC) --
Dozens of people were injured after a tractor-trailer collided with a bus
on the New Jersey State Turnpike in West Deptford Township,

New Jersey.

Around 12:30 a.m. Friday, the tractor-trailer hit the bus, then jackknifed on the New Jersey State Turnpike in West Deptford Township.

According to New Jersey State Trooper Alejandro Goez, the tractor-trailer blocked two lanes of the highway, and the bus flipped onto its side with about 50 passengers on board.

"I was sleeping ... next thing I know, we were hit from the back and boom. The bus started flipping and it flipped over. I fell on my back," said passenger Dwight Baylor, of Bedford-Stuvesant.

The wreck happened at mile post 19, southbound in Gloucester County. Traffic was able to pass on the right shoulder Friday morning.

Injuries are non-life threatening. Some passengers were taken to hospitals.

The bus is a privately operated and originated in Chinatown. It was en route to Atlanta.

Another passenger said they were waiting to get their luggage and then would continue on another bus.
===============
30+ injured in tour bus accident on N.J. Turnpike in Gloucester Co.


WEST DEPTFORD, N.J. (WPVI) -- At least 30 people were injured in a crash between a tour bus and a tractor-trailer on the southbound New Jersey Turnpike in West Deptford, New Jersey.

The crash happened at 12:30 a.m. Friday in the southbound lanes near mile marker 19.


Watch exclusive video of passengers describing the moments Panda tour bus collided with a tractor trailer on the NJ Turnpike in Gloucester County.

The bus was a Panda Bus heading from New York City to Atlanta.

New Jersey State Police closed all southbound traffic at exit 4 after the crash.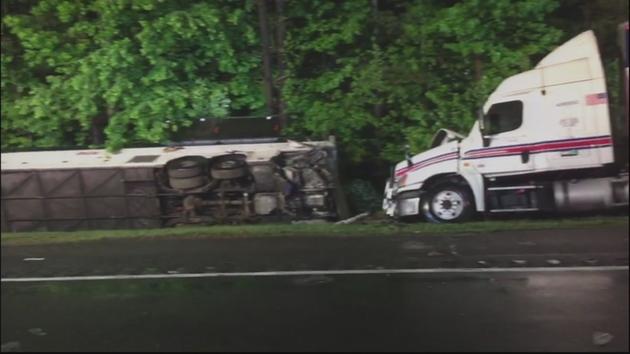 All lanes had reopened by 4:30 a.m.

All of the injured suffered minor injuries despite the fact that the bus overturned.

Passengers arrive at Inspira Woodbury Hospital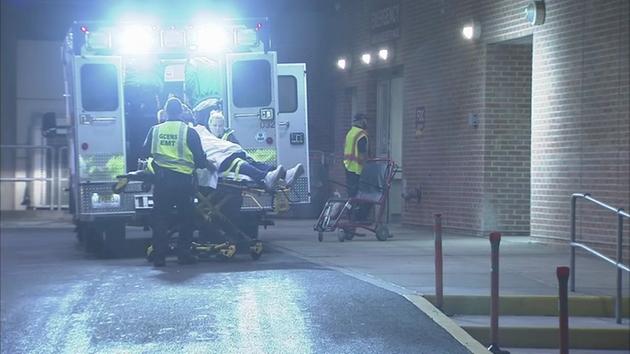 Victims of a tour bus accident on the NJ Turnpike are rushed to the hospital.

The injured were taken to four nearby hospitals.

Several were taken to Inspira Woodbury Hospital. The Action Cam was there as some of those injured arrived for treatment.

The cause of the crash remains under investigation.