Structural materials collapse near high-end Echo Brickell project
Oct 19, 2016, 5:35pm EDT Updated Oct 20, 2016, 10:59am EDT

Nina Lincoff Reporter South Florida Business Journal

Construction form work collapsed Wednesday afternoon near the Echo Brickell construction project and the 1450 Brickell building.

One person was killed and five were injured, according to the Miami Herald. The deceased was a male bystander in his 50s who ran from the falling materials and had a cardiac incident.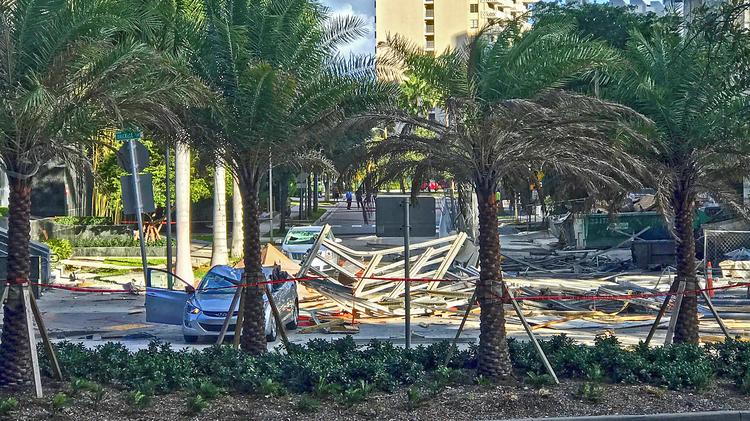 Structural materials are down near the Echo Brickell project and 1450 Brickell building.

Alex Cahlin

Representatives for Property Markets Group, the developer of the project, could not be immediately reached. John Moriarty & Associates of Florida (JMA) is the contractor on the project.

In a photo of the debris, it appears a car was damaged by the fallen materials.

Echo Brickell landed a $123.6 million construction loan from Canyon Capital Realty Advisors in 2014. The luxury condo building at 1451 Brickell Ave. has approximately 180 units with starting prices at $2 million.

"When a construction accident occurs, all you can hope for is the safety of everyone involved," said Ryan Shear, principal of PMG. "Myself, and everyone at PMG and JDS send our deepest sympathies and condolences to the family of the gentleman who passed. At this time we understand that everyone else injured has been released from the hospital."

PMG, JMA and city officials are working to understand what happened with the structural materials, which has not been determined.

"The site has been secured and is currently being reinspected to ensure proper safety measures are in place," Shear added.

JMA has worked on projects like the Brickell City Centre and the Icon Brickell, which recently had pool issues.