1 dead in massive 6-alarm fire at Upper East Side apartment building


Eyewitness News
Updated 55 mins ago
UPPER EAST SIDE, Manhattan (WABC) -- One person was killed after a six-alarm fire broke out in an Upper East Side building in Manhattan Thursday morning.

The fire broke out on the first floor of the building in the 300 block shortly before 3:30 a.m.

An unidentified middle-aged man was found on the third floor and pronounced dead in the building.

A man on the fifth floor was trapped with fire coming up the stairs and fire blocking the fire escape.

"His two options were really to jump or to burn," said FDNY Commissioner Daniel Nigro.

17 people were reported injured so far, most with minor injuries. 11 of the injured are firefighters.

A picture of the fire sent to us by viewer Emily Wiehl: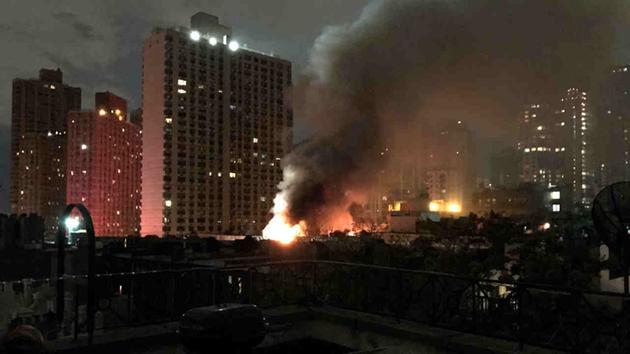 One person was killed and another is critical after a six-alarm fire broke out at an Upper East Side building.

The building, number 324, and two others were evacuated, leaving dozens of residents homeless. "We are talking about anywhere from 10 to 20 apartments in each building. You can do the math on that," FDNY Chief of Department James Leonard said.

An 81-year-old man was rescued by firefighters from his home on the fifth floor. He is now listed in stable condition at New York Presbyterian Hospital/Cornell burn unit.

The fire burned through the entire building, from the first to the fifth floor, then through the roof, destroying 324. Firefighters were met with heavy flames and at one point, had to pull away from fighting the fire because the flames were too strong.

"The residents were alerted by a smoke alarm, and unfortunately left the door open when they exited the apartment, so fire not only spread up the shaft, it spread directly up the stairs from one apartment," Commissioner Nigro said.

Nigro says that in a fire, he urges residents to close the doors.

The two adjacent buildings were checked for minor damage.

It was a chaotic scene as neighbors evacuated.

"Before the fire trucks got here, there was yelling in the streets, somebody yelling fire. I mean, if it wasn't for him, a lotta people wouldn't have gotten out," said Gabrielle Desonne, a resident.

Ashley Henry, another displaced resident, also escaped the fire. "We just literally threw on whatever was on the floor and ran out," said Henry.

East 93rd Street was closed between First and Second avenues, and First Avenue was closed between 88th and 94th streets.

The Red Cross was on the scene assisting residents of the building. American Red Cross has registered 19 families so far, 22 adults and 2 children.

The cause of the fire is under investigation.