5-alarm fire destroys Little Village pallet yard; 2 firefighters hurt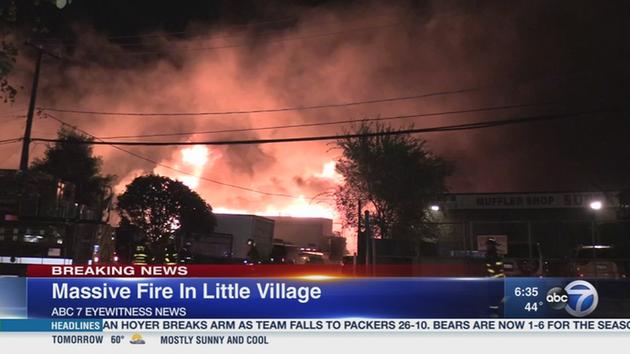 Little Village 5 alarm fire extinguished (WLS)

By Diane Pathieu
Updated 37 mins ago
CHICAGO (WLS) -- Two firefighters were hurt battling a five-alarm blaze that destroyed a pallet yard on Chicago's Southwest Side early Friday morning.

Crews responded to a report of a two-alarm factory fire in the 2500-block of West 26th Street around 3:15 a.m. When they arrived, a wooden pallet shop was fully engulfed by flames and heavy smoke was billowing out of the building.

The blaze escalated to five alarms around 4:45 a.m. At one point, 210 firefighters were on the scene. The flames spread to a muffler shop, a dollar store and at least one other business nearby, officials said.

A hazardous materials team was also called to the scene to test the air because of the materials that were burning inside. A deputy fire commissioner said their biggest challenge Friday morning was getting enough water to douse the flames.

The fire was under control by around 5:30 a.m. and extinguished by around 6:10 a.m.

Two firefighters were transported in good condition to Rush University Medical Center. One sustained a shoulder injury and the other had trouble breathing. Both are expected to be OK.

Fire marshals are working to determine what started the blaze.