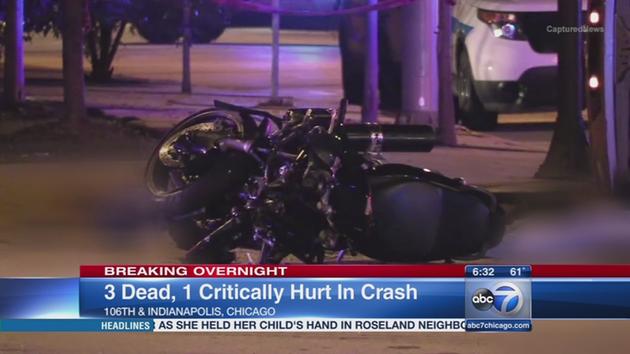 Three people were killed and one person was critically injured in a crash on Chicago's Far South Side. (WLS)

By Diane Pathieu
Updated 1 hr 18 mins ago
CHICAGO (WLS) -- One of the three people killed in a violent crash on Chicago's Southeast Side was identified Tuesday morning.

The victim was identified to the Cook County Medical Examiner's Office as Jamie Trickle, 35.

Trickle was a passenger in an SUV that was struck around 10:20 p.m. Monday by a motorcycle that ran a red light at the intersection of South Indianapolis Boulevard and South Avenue B in the city's East Side neighborhood. That's near the Illinois-Indiana state line.

Trickle, of the 1700-block of West north Shore Avenue, was pronounced dead at the scene at 11:50 p.m., the medical examiner's office said.

Two men on the motorcycle were also pronounced dead at the scene. Authorities have not released their identities.

A 28-year-old woman who was driving the SUV was rushed to Advocate Christ Medical Center, where she is listed in critical condition.

The Chicago Police Major Accidents Investigation Unit is looking into what caused the crash. Fire officials said it appears the motorcycle rider was speeding.