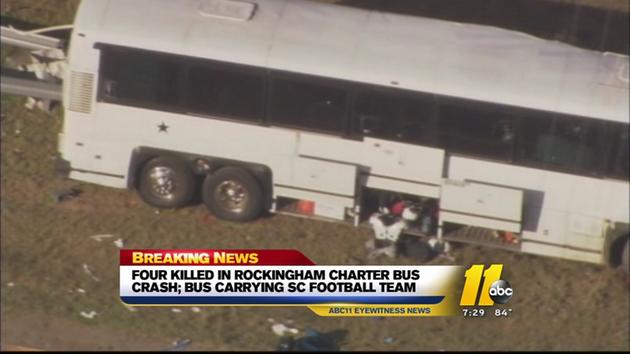 The charter bus was carrying a football team from Rock Hill, SC to Fayetteville (WTVD)

Updated 2 hrs 1 min ago
RICHMOND COUNTY (WTVD) -- Four people are dead and 42 are injured after a bus carrying a football team hit an overpass bridge on Highway 74 in Richmond County near Rockingham Saturday afternoon, WSOC reports.

Highway Patrol officials said the front tire of the bus blew and the bus swerved and hit a guard rail. It then sideswiped a concrete bridge column.

The bus was carrying members of the Ramah Juco Academy football team, with many of the players enrolled at Clinton College. They were headed from Rock Hill, S.C. to play the University of God's Chosen in Fayetteville, the UGC coach Demetrius Hollingsworth confirms.

The Ramah Juco coach was hurt in the crash.

All passengers hurt in the crash were taken to local hospitals. Authorities say the injuries range from minor to critical.

The road is closed in both directions.

Highway Patrol and the Richmond County Sheriff's Office are investigating.