Over 9" of rain reported as flooding plagues central NC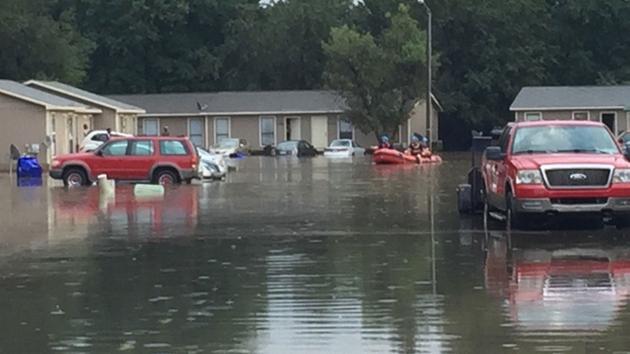 Flooding closes roads in Fayetteville and Spring Lake Thursday morning (ABC11 Photojournalist Lou Guilette)

Updated 7 mins ago
ABC11 is in First Alert Mode as severe thunderstorms continue to impact central North Carolina.

A flash flood watch has been issued for Cumberland, Hoke, Harnett and Wayne counties until Thursday evening.

Interstate 95 southbound is down to one lane at Mile Marker 43 because of the flooding.

Cumberland, Fort Bragg and Hoke County Schools are now closed Thursday because of flooding and officials say parents should pick up students who are already at school. Harnett and Moore County Schools are operating on a two-hour delay today due to the weather. Fort Bragg officials also released service members at 10 a.m. and will release civilian employees at noon.

Flooding has been reported in several areas - ABC11 Meteorologist Don "Big Weather" Schwenneker says ABC11's First Alert Doppler XP estimates there has over 10 inches of rain in some parts of northern Cumberland County and over 9 inches in Moore County alone.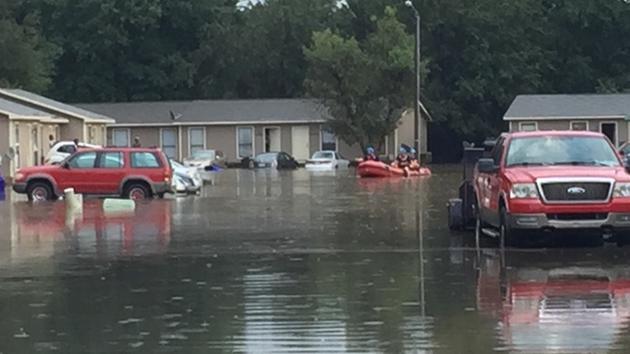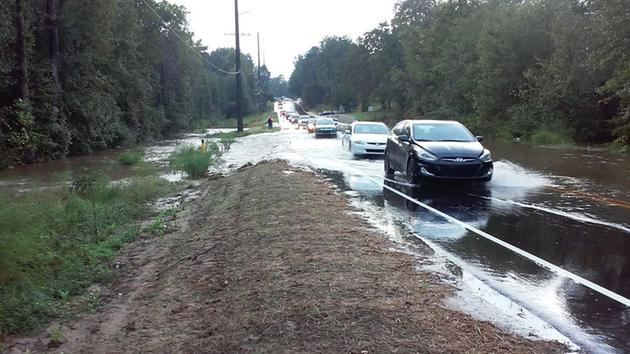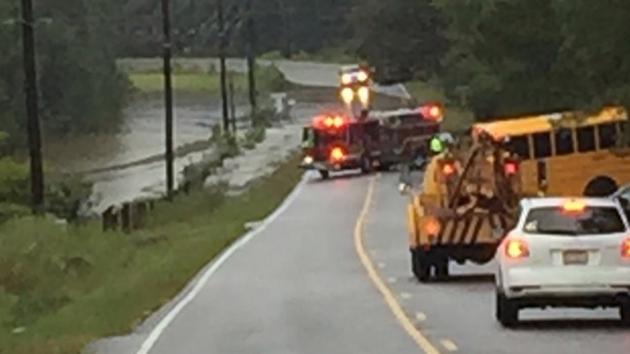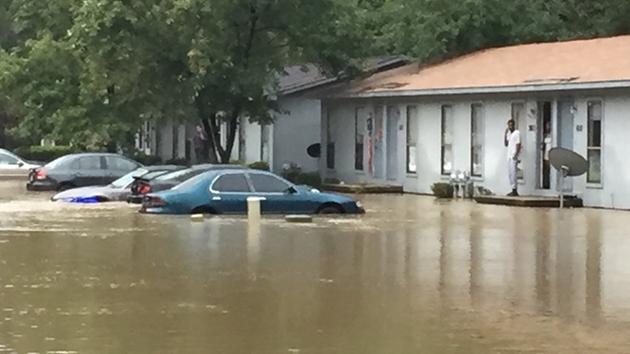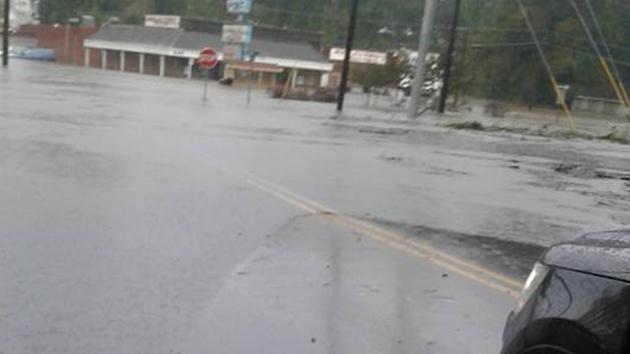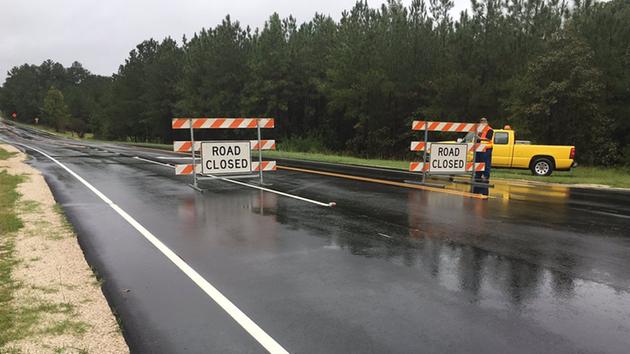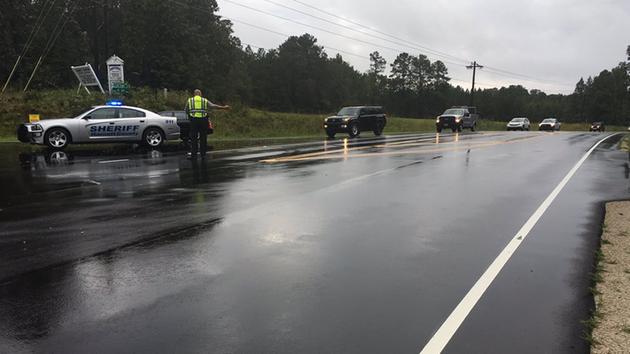 Floods strike the Fayetteville/Hope Mills region. (ABC11 Eyewitness photo)

Manchester at Raefordvass roads near the Sicily Drop Zone on Fort Bragg is closed due to a large sink hole at Jumping Run Creek.



W. Manchester Road and NC24/NC87 in Spring Lake is also closed due to rising floodwaters along the Lower Little River bridge. Officials say the river is approaching "Major" flood stage, which is 27 feet. The National Weather Service expects the water level to rise to 31+ feet.



Also in Spring Lake, police told ABC11 they are had to evacuate homes along Vass Road due to high water.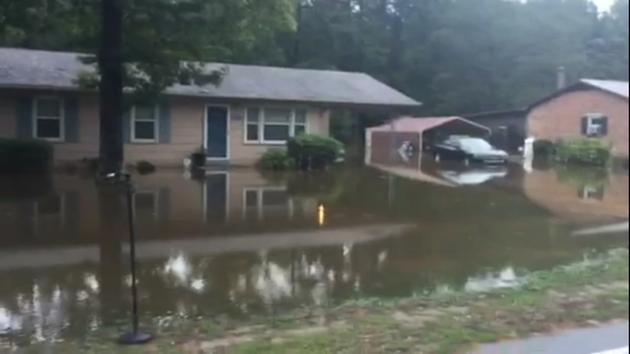 Water inundated homes along Vass Road.

Rising waters will continue to be a concern throughout the day as the lingering storm system could produce more showers and thunderstorms through Friday.



"Some of the shower and thunderstorm activity has the potential to bring heavy rain, damaging winds gusts and hail," Schwenneker said.

The SPC has again put us in a marginal risk for severe weather.




The storm system has brought lightning, thunder, large hail and torrential rains to most parts of the ABC11 viewing area since Wednesday afternoon.



Fayetteville has especially been affected by heavy rain, with the Fayetteville Fire and Emergency Management Department responding to multiple reports of flooding overnight and requests for assistance throughout the city because of the strong storms that have passed through the area.



Early Thursday morning, rescuers had to help a family and a small child from a flooded home on Gurley Street, just south of downtown Fayetteville.

WATCH: Flooding causes major problems in Fayetteville area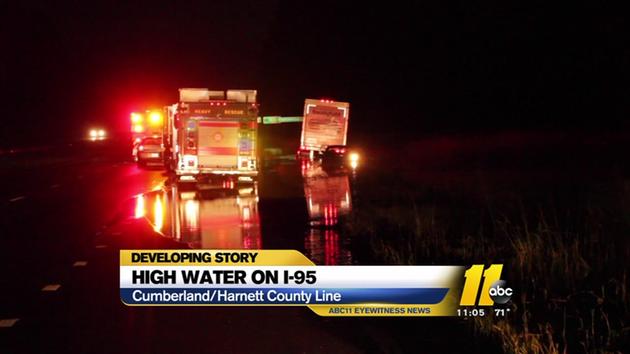 E

Flooding was a major issue in the Cumberland County area on Wednesday.

Wednesday night on Wayland Drive, near S. Reilly Road, six people were rescued by firefighters from a group home that was being threatened by rising waters.

Several other residents in that neighborhood were also helped to safety.

Several vehicles were stranded because of high water at the intersection of Santa Fe Drive and Carson Drive in Fayetteville, and two people had to be helped from their flooded vehicle by the fire department.



Another driver was rescued from a flooded vehicle in the vicinity of Cliffdale Road and Regency Drive.

Remember, never try to drive through a flooded roadway.

WATCH: Chris Hohmann explains "Turn Around, Don't Drown"





Chief Meteorologist Chris Hohmann explains the dangers of driving during flooding conditions.

In addition to the water rescue responses, the fire department has responded to multiple fire alarm activations and witnessed lightning strikes throughout the city. Multiple roads throughout the Fayetteville continue to be flooded.

Drivers are urged to practice extreme caution and not to travel down or through any roads or intersections that appear to be covered with water.

An ABC11 Eyewitness reported hail falling in Cary, and golf-ball-sized hail was reported in Person County. Hail was also reported near Dunn, in Harnett County.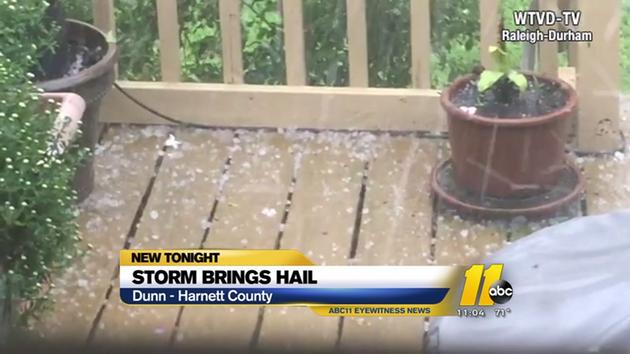 Storm brings hail, power outages to central NC, including hail in Dunn and Cary.

The severe storms brought reports of power outages.

In Durham, an estimated 6,000 customers were without power Wednesday afternoon. Large sections of east Durham were left in the dark.

Our weather should improve for the weekend with cool, clear skies by Saturday.