Update on the Grand Central Parkway fatal accident
Police reported two people dead and one arrested. Andrew Shakespeare, 33 of New Jersey was heading home after they were performing as DJs in a 2014 BMW. Shakespeare was taken into custody after police reported of speeding at 140mph on the westbound Grand Central Parkway near 188th Street. He lost control while changing lanes and sideswiped a 2002 Nissan driven by a Bellerose resident, a 59 year old female who suffered minor injuries. From there, another vehicle, Nissan Rogue was sideswiped driven by a New Hyde Park resident, 52 year old male who also suffered injuries. Both BMW and Rogue went to the eastbound breaking the guard rail hitting a 2012 Mercedes driven by a 38 year old female from Brooklyn. After the impact, two people inside Shakespear's car, Layon Campell, 34 and Akeam Grant, 16 of Brooklyn were dead on the scene. Two more unidentified passengers, 21 and 16 year old males in the BMW were also taken to hospital with injuries. After investigation, Shakespeare was charged with aggravated vehicular homicide, reckless endangerment, vehicular manslaughter and other charges. The incident happened on Sunday, July 16 around 6:30am.
Grant, pictured above, arrived from Guyana seven months ago leaving his parents for education in NYC while working as a DJ


JAMAICA, Queens (WABC) -- A New Jersey man has been charged in connection with a multi-vehicle crash in Queens Sunday that left two people dead, including a 16-year-old boy.

33-year-old Andrew Shakespeare of Roselle is facing multiple charges, including manslaughter, DWI and reckless driving after police say he caused the accident on the Grand Central Parkway.

Four cars were involved in the pileup that happened at 6:30 a.m. in the vicinity of 188th Street in the Jamaica Estates section.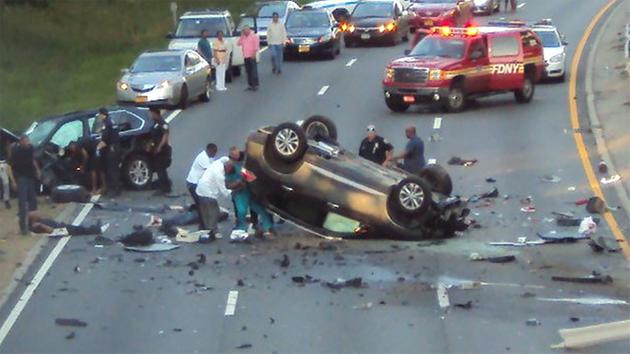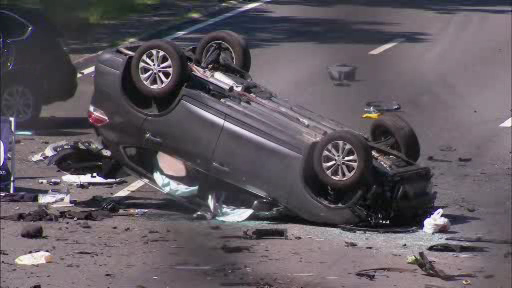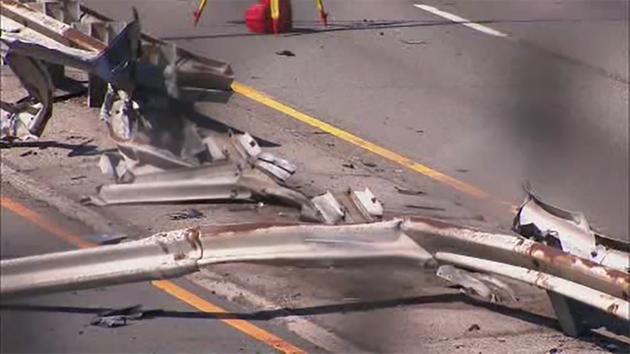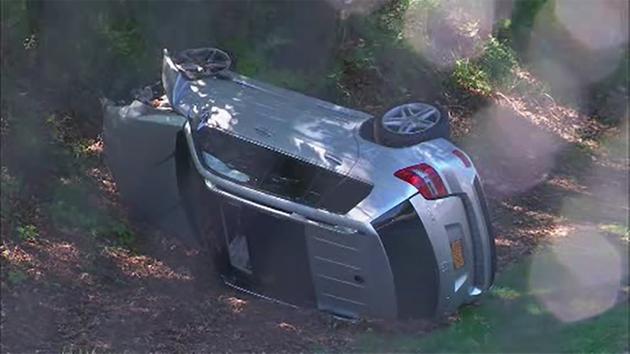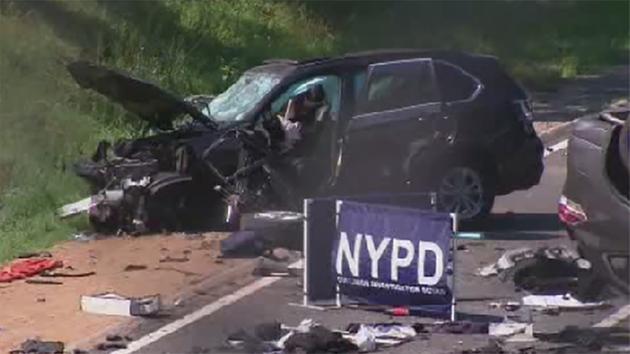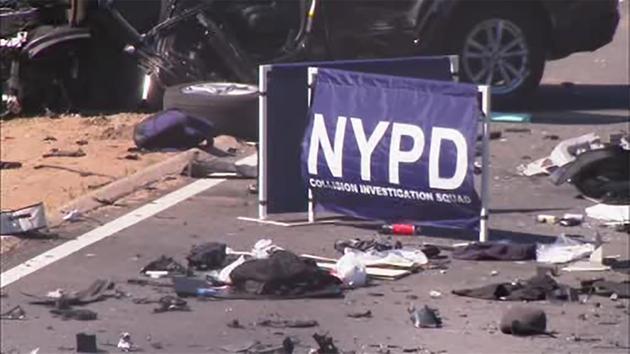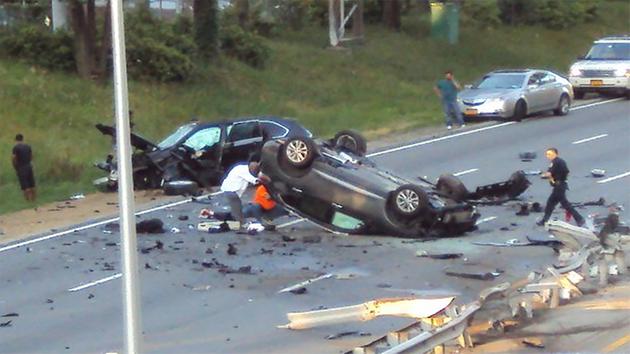 Photo courtesy @samspinchat via Twitter

Police say Shakespeare was driving a BMW SUV westbound and was speeding.

He switched lanes and hit another car, then lost control of his vehicle and crossed three lanes of traffic, hitting a third car.

Shakespeare's vehicle and that car hit the guardrail, crossed into the eastbound lanes and rolled over.

Two of the four passengers inside Shakespeare's SUV were killed.

They have been identified as 34-year-old Layon Campbell and 16-year-old Akeam Grant, both of Brooklyn.

Seven other people were injured. Shakespeare suffered a minor head injury and refused a breathalyzer test, police say.

He is due to be arraigned Monday. Hopefully the Judge will force him to change his last name. Such a moron cannot possibly have such a famous last name.


============



NEW YORK (CBSNewYork) — One person was killed and another eight were injured in a horrific accident on the Grand Central Parkway Sunday morning.

Authorities say a vehicle travelling westbound near 188th Street in Queens crashed through the center divider and into eastbound traffic around 6:30 a.m.

Three vehicles were involved, including a sports utility vehicle that landed on its roof with a body lying on the pavement right behind it, 1010 WINS' Roger Stern reported.


Another was a mini-van which came to rest on its side.

One witness described what she saw next.

"A lady got out from the roof, and she was trying to grab — maybe it was her daughter — somebody younger, and she was trying to pull her out of the car, but she couldn't get her out," she told 1010 WINS. "By the time the cops came, they helped pull her out."

Authorities say one person died at the scene. Eight others were hurt and are expected to survive, 1010 WINS reported.


====================



A horrific four-vehicle crash on the Grand Central Parkway in Queens killed a teen and a man early Sunday and left seven others with injuries, police said.

At least one car flipped and another rolled onto its side in the 6:30 a.m. accident caused by a drunken driver, near 188th St. in Jamaica Estates, police said.

Cops arrested Andrew Shakespeare, 33, of New Jersey. Shakespeare caused the fatal crash when he tried to speed past another car in his westbound 2014 BMW SUV and lost control, according to authorities.

Shakespeare's SUV flew across three lanes, smashed into the guardrail and rolled over into the eastbound lanes, cops said.

Charges against him include Shakespeare was charged with manslaughter, vehicular manslaughter, aggravated vehicular homicide, driving while intoxicated, reckless endangerment and reckless driving.

Akeam Grant, 16, died at the scene after he was thrown from the backseat, police said. The front-seat passenger, 34-year-old Layon Campbell, died at Elmhurst Hospital Center two hours later.

The seven people who were hurt went to nearby hospitals with minor injuries, cops said.




Twelve hours earlier in Staten Island, cops arrested the driver of a white Hyundai who hit a woman and 4-year-old twins as they crossed a street, police said.

Elizabeth Johnson, 56, hit the 25-year-old woman and the kids, a boy and a girl, at Vanderbilt Ave. and Osgood Ave. in Fox Hills just before 6:30 p.m. Saturday, cops said. EMS workers took the victims to Staten Island University Hospital in stable condition. The little girl suffered a head injury and the boy and the woman had cuts on their faces and legs, cops said.

The victims have the same last name, but their exact relationship could not be determined.

Johnson, who lives in Staten Island, was charged with failure to yield to pedestrians and failure to exercise due care.

There have been 14 motorist fatalities this year through Thursday, a 41% drop from last year when there were 24 for the same period, according to police statistics. There also have been 51 pedestrian fatalities, which represents a 27% decrease from last year's 70.

Overall, a total of 102 people have died in collisions this year through Thursday, including motorcyclists, bicyclists and passengers. That figure represents an 18% decrease from the same period last year, when 125 people died in accidents.