Thirty-seven cats had to be evacuated from the Lincoln Avenue Cat Hospital as the fire consumed Valley National Bank.
Photo credit: Lincoln Avenue Cat Hospital

Neighbors Evacuated, Dozens of Cats Rescued as Gas-Fueled Blaze Consumes Bank in New Jersey
By Checkey Beckford



Residents were evacuated and dozens of cats were rescued from an animal hospital after a high-voltage wire fell onto a gas box in Fair Lawn, sparking an hours-long fire that torched a bank.

PSE&G hasn't said what caused the high-voltage wire to collapse onto the gas box, but the fire quickly spread and was so potentially dangerous that firefighters rushed to evacuate everyone nearby, police said.

The fire was still burning six hours after it started on Lincoln Avenue around 11 a.m. Friday.

The fire spread to Valley National Bank, badly damaging the business, police said. Video from the scene shows firefighters battling flames at the bank amid heavy smoke and rain.

Residents, Cats Evacuated as Gas-Fueled Blaze Burns Bank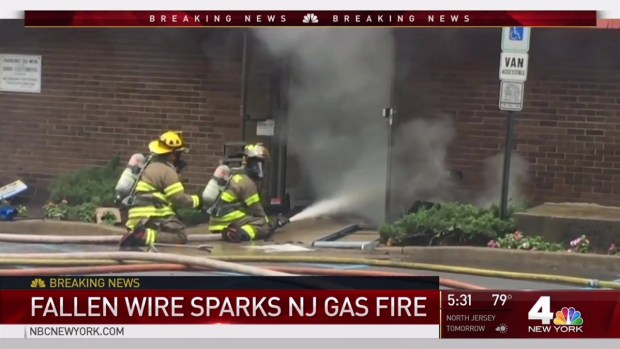 Residents were evacuated and dozens of cats were rescued from an animal hospital after a high-voltage wire fell onto a gas box in Fair Lawn, sparking an hours-long fire that torched a bank. Checkey Beckford reports.(Published Friday, July 7, 2017)

Dozens of cats had to be evacuated from the Lincoln Avenue Cat Hospital, a veterinary business neighboring the bank. Thirty-seven cats were evacuated in all. None of them were injured, according to officials.

Residents near the fire lost power and were eventually evacuated from the scene and kept at least a block away.

"My lights flickered, on and off, about three times," Lois Stibely said. "Finally, I heard a humming noise, which is usually like the mainframe of a grid going off. And then the power completely went off."

PSE&G crews were working to cap the gas leak for hours. Firefighters stood nearby as they waited to put out flames that were shooting up from the sidewalk.

"It's crazy, it's been burning since 11 o'clock. I don't understand why it's taking this long to get PSE&G out here to start digging to shut it off," Mary Oprihory said.

The fire was extinguished shortly before 6 p.m. Power was restored to the homes late Friday night.

Valley National Bank spokesman Marc Piro told News 4 that the fire department will not let employees of the bank back in and that they've not had a chance to assess their losses. Piro said customers of the bank are being referred to the branch at 20-24 Fair Lawn Avenue.


===============

FAIR LAWN, N.J. (CBSNewYork) — A gas fire in Fair Lawn, New Jersey burned for nearly seven hours Friday.

PSE&G said a high voltage wire fell and landed on a gas box, sparking the fire. It spread to the nearby Valley National Bank.

Some neighbors said it sounded like fireworks. Some were concerned the gas had been leaking for a while.

"We don't know whether it broke because a tension line hit or because of a car accident that happened there a few months ago," resident Mary Oprihory said. "Leads me to believe well was there actually a leak going there all this time, and when the tension line fell – boom?"

PSE&G crews could not get the gas shut off, so firefighters ended up dosing it with water just before 6 p.m.