A look at damage to one of the buses in a crash in Mahwah, N.J.

MAHWAH, New Jersey (WABC) -- One school bus ran into another in Mahwah Friday morning while heading to a field trip, sending 18 to the hospital.

Police say there were four buses carrying 179 third-grade students and 19 staff members from School No. 11 in Passaic to Museum Village in Monroe, New York.



The buses were on Route 17 in New Jersey when one encountered debris in the road, prompting the driver to stop short to avoid it. That apparently caused the bus behind it to rear-end the first bus just before 10 a.m.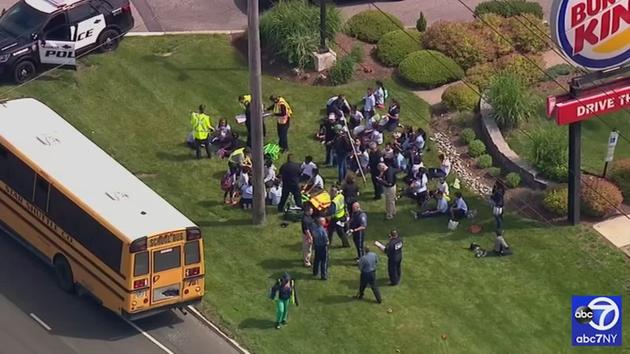 Police and emergency medical teams from Mahwah and surrounding areas were immediately on the scene.

The two buses involved in the accident had 89 students and nine teachers and staff on board, and 17 students and one staff member were transported to Valley Hospital. They were said to have only minor injuries, and none were expected to be admitted.

The rest of the students were evaluated in the parking lot of a Burger King before being returned to School No. 11.

Passaic Mayor Hector Lora and school superintendent Pablo Munoz praised the efforts of all emergency personal and the Mahwah police for their efforts. They also thanked Burger King and its staff for allowing students to be gathered in their restaurant and away from the accident scene.