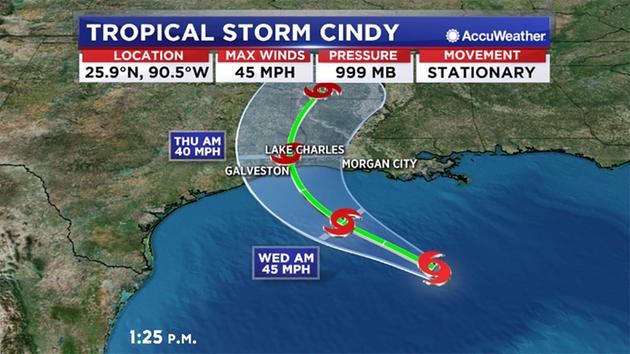 Updated 1 min ago
HOUSTON, Texas (KTRK) -- 1:25 p.m.

ABC13 meteorologist Casey Curry said the disturbance in the Gulf of Mexico has been upgraded to Tropical Storm Cindy.

Casey said to expect the highest threat of rain Wednesday night into Thursday, with 3 to 6 inches of rain falling on the Houston area.

The Tropical Storm Warning was extended westward to High Island and a Tropical Storm Watch was in effect from west of High Island to San Luis Pass this morning.

The Tropical Storm Watch included Harris, Galveston, Liberty and Chambers counties.








Eyewitness News team coverage on the eye on the tropics

The forecast for southeast Texas remains unusually uncertain because there will be a sharp dividing line between who gets no rain and who gets up to half a foot of rain. Therefore, each shift west in the track has big implications for the Houston region.

On Monday, Tropical Storm Bret formed off the coast of Venezuela. It is extremely rare for anything to develop east of the Caribbean in June, so it could signal an active hurricane season ahead.