Friday, April 14, 2017 12:19PM
FELTONVILLE (WPVI) -- Police say two women are dead and a man is hospitalized after the SUV they were traveling in crashed into a parked tractor trailer on Roosevelt Boulevard.

It happened before 9 a.m. Friday in the outer northbound lanes of the boulevard near D Street in the Feltonville section of Philadelphia.

Video from Chopper 6 HD showed a beige Ford Expedition with heavy front-end damage wedged against the rear section of a tractor-trailer.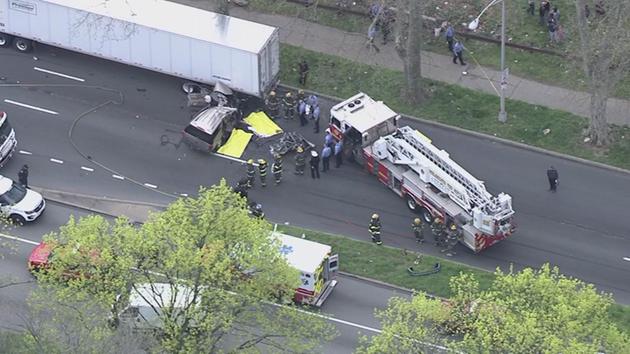 Raw video: First responders at the scene of a deadly crash on the Roosevelt Boulevard on April 14, 2017.

The front section of SUV's roof had been partially torn off.

Action News is told the injured man was at the wheel of the SUV when it hit the tractor-trailer, which was parked in the right outer lane of the boulevard.

"At this point it's an ongoing investigation," said Philadelphia Police Lt. Gregory Brown. "The driver at Einstein (Medical Center) is reported in stable condition."

Two passengers in the SUV, a 25-year-old woman and a 40-year-old woman, did not survive the impact. Both were pronounced dead at the scene by arriving medics.

All outer northbound lanes of the boulevard were shut down at the scene immediately following the crash, as police investigated.

Action News is told the tractor-trailer was legally parked at the time of crash.

The driver of the 18-wheeler told us he had been taking a federally required rest break and was at a nearby hotel when the collision happened.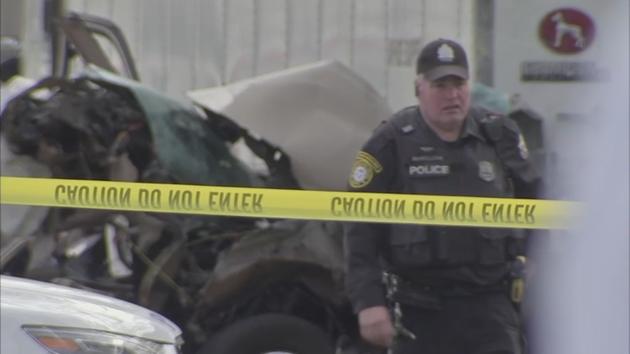 There were skid marks visible at the scene, but it is not clear if they were made by the Expedition.

It is also not clear if there was another vehicle involved that might have contributed somehow to the collision.

"Some people say there was another vehicle. But again, the investigation will reveal that. We are out canvassing the area for witnesses and video. But at this point I can't confirm" that another vehicle was involved, Brown said.
These are two more under-riding deaths. Most likely the driver was speeding (judging from the skid marks and the massive damage to the SUV) and failed to stop on time during the night hours.