Police charge worker who failed to control truck that killed child





Hillsborough, N.C. — Hillsborough Police Chief Duane Hampton said a 5-year-old boy hit by an unrestrained dump truck Monday afternoon has died.

Greg Tuttle, who lives in the neighborhood, said first responders told him that a construction worker left a dump truck unattended at the top of a hill on Dogwood Bloom Lane in the Forest Ridge subdivision. That worker, Alejandro Suarez, told first responders that he had set the brake on the truck only to see it rolling free.

Hillsborough police determined that Suarez, of 287 Spider Lily Lane in Angier, was responsible for controlling the truck, and they charged him Monday with misdemeanor death by motor vehicle.

"I mean, how could something like this happen," Tuttle said. "You just don't ever think that something like this could ever actually happen. But accidents do happen, freak things happen. Apparently that's what happened here."

Suarez was being held Monday evening in Orange County Jail under a $10,000 secured bond.

"At this point, we don't believe the vehicle was properly secured," Hampton said. "We will also be following up the investigation, looking at the mechanical condition of the vehicle and confirming all of the working relationships, regarding specifically which company the crew was working for."

Investigators said they will look into the safety record of the construction company.

The truck rolled down the hill for about 100 yards, snapping overhead power lines before running into the home and hitting the boy, who was playing in a driveway. The child was taken to Duke University Hospital and later died, Hampton said


=======



HILLSBOROUGH, N.C. (WNCN) — A man was charged after a 5-year-old boy died when he was hit by a construction truck that rolled down a hill and crashed in Hillsborough on Monday afternoon, officials said.

The incident happened just before 1 p.m. in the 200 block of Dogwood Bloom Lane, which is in the Forest Ridge neighborhood where new homes are being built.

Alejandro Suarez of 287 Spider Lily Lane in Angier was charged with misdemeanor death by vehicle, Hillsborough town officials said in an email.

Authorities said that the truck was being loaded with dirt at the time but that it "rolled away from its work area."

The vehicle then rolled down a hill, hit a light pole and then hit the boy before crashing into a house at 205 Dogwood Bloom Lane.

The boy was hit while in a driveway of his own home, officials said. In photos, a construction truck could be seen smashed into a garage of the home.

"Suarez was determined to be responsible for control of the vehicle," Hillsborough officials said.

Suarez was arrested and placed in Orange County Jail under a $10,000 secured bond.



Forest Ridge resident Greg Tuttle says when he heard sirens Monday afternoon he didn't think it was for his neighborhood.

"I just looked out my back window and saw a lot of police cars, an ambulance and a fire truck, and saw something going on down there. I thought maybe a home had caught fire or something," he said.

"There were quite a few little kids playing, and most of them I guess were able to scamper out of the way," Tuttle added.

Neighbors are stunned at the unthinkable tragedy.

"I feel so bad for the family, right at Christmas time like this," said Tuttle.

Tuttle says this incident will have residents paying closer attention to the construction sites around their homes.


=======





Man charged after boy hit, killed by construction truck in Hillsborough








A runaway construction truck struck and killed a little boy playing in his yard.

By Angelica Alvarez
Monday, December 26, 2016 11:27PM
HILLSBOROUGH, North Carolina (WTVD) -- A 5-year-old boy was killed Monday when a construction truck came barreling toward his home. Now, one of the men on the construction crew is being charged.

It happened in the Forest Ridge subdivision, a new neighborhood not far from U.S. 70. Many homes are still under construction around houses where families were home the day after Christmas.

On Dogwood Bloom Lane, neighbors describe themselves as close knit. It's quiet and children play up and down the street while construction crews work nearby. That's the way it was Monday afternoon when the unthinkable happened.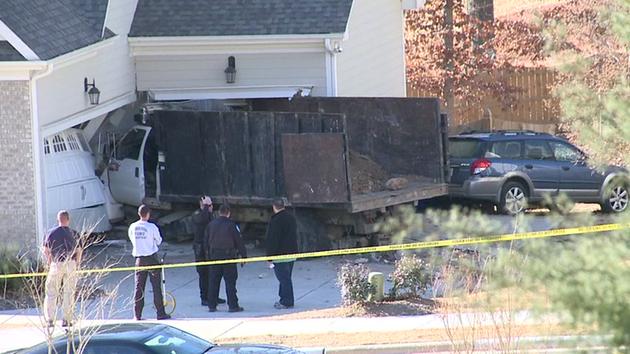 The construction truck came loose and rolled down a hill (WTVD)

Just before 1 p.m., Hillsborough police responded to emergency calls about a construction dump truck and a 5-year-old boy. Just up the street, on a hill, construction crews were loading the back of the truck when it started rolling.



No one was inside of the truck when it started gaining speed, barreling down the hill, through a front yard, a driveway and then a garage door.

Playing in the driveway just before that garage, were children. One was the young boy. Neighbors say he was playing soccer, and he couldn't get out of the way fast enough. The truck hit him before crashing into the home.

Neighbors say a doctor lives in the neighborhood and ran over to help. She performed CPR until emergency crews arrived.

"I heard a lot of sirens, a lot of commotion," said Greg Tuttle, who came outside and saw the damage to the home, "I thought that was sad in itself but then I heard a little boy was killed, just made it, quite a bit tragic."

Hillsborough Police Chief Duane Hampton said the boy was rushed to Duke University Hospital, but did not survive.



Alejandro Suarez, of Angier, is charged with misdemeanor death by motor vehicle. Police said he was responsible for the control of the vehicle. He was taken to the Orange County Jail and is being held on a $10,000 bond.

At this point, we don't believe the vehicle was properly secured," said Chief Hampton. "We will also be following up the investigation, looking at the mechanical condition of the vehicle and confirming all of the working relationships, regarding specifically which company the crew was working for."

Online, the developer listed for Forest Ridge is Crescent Communities.

ABC11 reached out to them but have not heard back. We did however get someone with the real estate company, Chase Properties. This person was traveling and is working to provide information about who can comment on what happened.