Crews investigate second incident at GVL Poly plant in Hesston

By KSN TV Published: October 7, 2016, 6:16 pm Updated: October 8, 2016, 5:54 pm





GVL Poly


HESSTON, Kansas (KSNW) – For the second time in as many days, emergency crews are responding to an incident at the GVL Poly plant in Hesston.

Harvey County dispatchers confirm to KSN that they responded to a difficulty breathing call at the plant, in the 8500 block of Hesston Road after 5 p.m. Friday. In all, six patients were transported to local hospitals. Five of the patients are believed to have potentially serious injuries and one patient had minor injuries. None are considered life threatening.

The Harvey County Sheriff said there was no chemical spill. Investigators are still trying to determine the cause.

This comes a day after a chemical spill of an isocyanate product at the plant. In the first case, six employees reported medical issues and three were taken to Newton Medical Center in serious condition.



===========
Three employees sickened after chemical spill at the
GVL Poly plant

in Hesston, Kansas

By Ashley Booker The Hutchinson News abooker@hutchnews.com
Oct 6, 2016

HESSTON, KS – Three people were hospitalized Thursday due to a chemical spill at the GVL Poly plant.

The patients were transported to Newton Medical Center and were in serious condition Thursday afternoon, said Melissa Flavin, a spokeswoman for the Harvey County Sheriff's Office. All three had been released by midday Friday, Newton Medical Center said.

Three other people, also reporting medical issues due to the spill at the plant in the 8500 block of North Hesston Road, were taken to the hospital by private vehicles and were treated and released.

The plant, evacuated just after 10:20 a.m. Thursday, is undergoing cleanup operations.

First responders found the spill involved an isocyanate product.

It is not known when the plant will reopen.

Sheriff's deputies, Hesston police and officials with both Harvey County Emergency Management and emergency services in Hesston and Newton responded to the incident.

GVL Poly manufactures aftermarket agriculture equipment and assemblies, including parts for corn headers. The company did not return phone calls.


======


UPDATE: Second round of sickness at GVL Poly not related to chemical spill


By Jacob Albracht |

Updated: Fri 10:27 PM, Oct 07, 2016

HESSTON, Kan. (KWCH) UPDATE:
Plant managers say emergency crews were called to the plant at around 5:15 p.m. today after several employees started to throw up.




The plant was evacuated as a precaution because of Thursday's spill and six people were taken to the hospital for treatment but were later released. Officials say the illness didn't not have anything to do with the spill.

"We want to mitigate any concerns or reasons for feeling uncomfortable of employees coming back to work," said plant manager Paul Gibson.

Officials at the plant say fire crews conducted air tests throughout the rest of the night and didn't find any harmful fumes or substances.

------

For the second time this week, emergency crews are at GVL Poly Plant in Hesston.

Harvey County dispatchers say the plant has been evacuated due to chemical fumes.

Sheriff T. Walton says emergency crews have not found a spill of any kind of chemicals, and the investigation continues. First shift employees worked in the plant without any type of problem.

Dispatchers tell us six patients have been taken to the hospital for treatment. Four are headed to Newton Medical Center and two have been taken to Via Christi St. Francis.


Jacob Albract is headed to the scene. We hope to have more details on this situation.


========


Hesston plant evacuated after chemical spill; 3 hospitalized
Posted: Oct 06, 2016 12:50 PM EST Updated: Oct 06, 2016 10:15 PM EST
written by KAKE News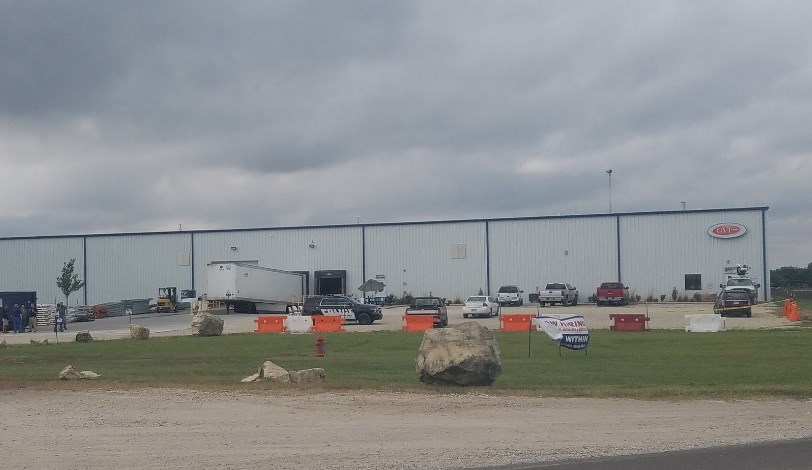 HESSTON, Kan. (KAKE) -

The Harvey County Sheriff's Office says three people were hospitalized following a chemical spill at a plant in Hesston.

Two of the hospitalized employees have been released from the hospital, while a third remains in the hospital for observation but is doing well said GVL Poly CEO Allan Cronen. Cronen told KAKE News the affects of the spill have been negated and the plant in now back up and running.

The incident was reported Thursday morning at the GVL Poly Plant in the 8500 block of North Hesston Road. Sheriff T. Walton said an employee reported difficulty breathing.

The plant was evacuated at around 10:20 a.m.

Melissa Flavin with the sheriff's office said five gallons an isocyanate product spilled. Six workers were exposed the fumes and suffered breathing problems. Three of them were transported to Newton Regional Medical Center in serious condition. The others were check out and released.

The plant was closed down as the clean up of the spill is being addressed.

Harvey County deputies, Hesston police, and EMS crews responded to the scene. Sedgwick County HAZMAT was assisting.

The Centers for Disease Control and Prevention explains on its website about isocyanates:


Isocyanates are a family of highly reactive, low molecular weight chemicals. They are widely used in the manufacture of flexible and rigid foams, fibers, coatings such as paints and varnishes, and elastomers, and are increasingly used in the automobile industry, autobody repair, and building insulation materials.