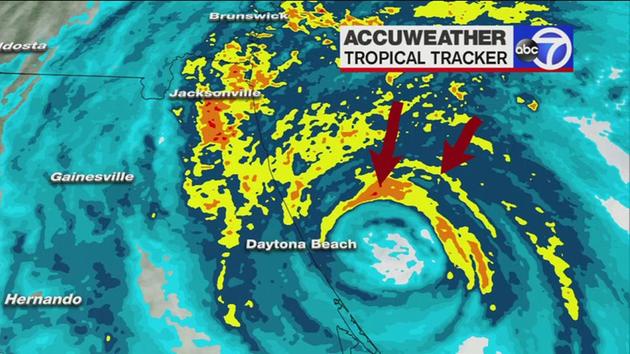 Updated 35 mins ago
CAPE CANAVERAL, Florida (WABC) -- Hurricane Matthew spun dangerously close to Florida's Atlantic coast Friday morning, with its eye brushing the coast near Daytona Beach bringing howling wind and heavy rain.

Matthew was downgraded to a Category 3 hurricane overnight with the strongest winds of 120 mph just offshore as the storm pushed north, threatening hundreds of miles of coastline in Florida, Georgia and South Carolina. A 107 mph gust was recorded in Cape Canaveral.

St. Lucie County officials confirmed that a woman died overnight after emergency officials could not reach her in time. A St. Lucie Fire Department spokeswoman, said at 1:20 a.m., there was a call that a woman in her late 50s was suffering from cardiac arrest.

At the time, there were wind gusts at 68 mph and officials determined that they could not safely respond. The woman had passed away by the time they were on the scene.

The center of Matthew was about 30 miles east-southeast of Daytona Beach and about 50 miles north of Cape Canaveral as of 10 a.m. Friday.

More than 475,000 in Florida were without power Friday morning.

Two million people were warned to flee inland as the most powerful storm to threaten the Atlantic coast in more than a decade charged toward Florida. Matthew left more than 280 dead in its wake across the Caribbean.

LATEST INFORMATION FROM THE NATIONAL HURRICANE CENTER


Forecasters said Matthew is going to be close enough to wreak havoc along the lower part of the East Coast, dumping up to 15 inches in rain in some spots. Storm surge of 5 to 8 feet was expected along the coast from central Florida into Georgia.

About 2 million people were encouraged to head inland ahead of the most powerful storm to threaten the Atlantic coast in more than a decade. Florida Gov. Rick Scott urged people who did not want to evacuate to reconsider.

"This is a dangerous storm," Scott said. "The storm has already killed people. We should expect the same impact in Florida."

Similar warnings were issued in Georgia and the Carolinas, where the storm is expected to arrive by the weekend. The last Category 3 storm or higher to hit the United States was Wilma in October 2005. It made landfall with 120 mph winds in southwest Florida, killing five people as it slashed across the state.
A look at the Bahamas: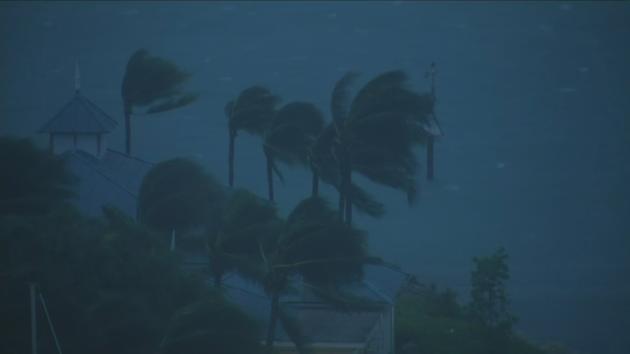 Video from Nassau as heavy rain and wind from Hurricane Matthew arrive

In South Carolina, Gov. Nikki Haley reversed the lanes of Interstate 26 for the first time so that all lanes of traffic were headed west and out of Charleston. Plans to reverse the lanes were put in place after hours-long traffic jams during Hurricane Floyd in 1999.

Haley planned to call for more evacuations on Thursday, which would bring the total to about 500,000 people in the state. Florida urged or ordered about 1.5 million to leave the coast, said Jackie Schutz, spokeswoman for Gov. Rick Scott. Around 50,000 people told to go in Georgia.