OCTOBER 26, 2016
Sheepshead Bay, New York

A man has died after falling to the bottom of a 35-foot-deep concrete wastewater tank while on the job at a Brooklyn treatment facility Wednesday, police and fire officials said.

The man, who sources said is a contractor in his early 30s, was working at the Coney Island Wastewater Treatment Plant on Knapp Street in Sheepshead Bay when he fell into the tank and became trapped at the bottom around 12:30 p.m., authorities said.

Police and firefighters, including members of elite marine units and scuba divers from the NYPD and FDNY, arrived at the scene and desperately searched for the man before finally finding him submerged about 8 minutes later and pulling him out, said FDNY Deputy Chief John Hodgens.

"He fell and he went right to the bottom," Hodgens told reporters, adding, "There was no sign of him on the surface of the water."

When the man was pulled out of the tank, "Immediately CPR was started on him to try and get a pulse," said Hodgens.

The man, whose identity was not immediately released, was rushed to Coney Island Hospital in critical condition and emergency responders performed CPR on him right up until they reached the hospital, officials said.

But the man died shortly after.

The wastewater the man fell into is the final stage of treatment before the water gets funneled out into Plumb Beach Channel, which is located near the plant.

It was not immediately clear how the man fell into the tank.

"It's a unknown environment," said Hodgens of the conditions of the water. "We have zero visibility. They performed a difficult search in order to recover this member. It wasn't cut and dry by any means."
====


Coney Island Wastewater Treatment Plant

Overview

The Coney Island Wastewater Treatment Plant is located in Sheepshead Bay Brooklyn, New York. Its borders are located at Avenue Y to the North, Voorhies Avenue to the South, Coyle Street to the West and Shell Bank Creek to the East. The plant has been in operation since 1952. The plant site is approximately 30 acres, of which 8 acres are dedicated to recreational facilities for the adjacent community.

To comply with the Clean Water Act, beginning in 1983 until completion in 1993 the plant was upgraded from a modified aeration plant to a full secondary plant. Because the site is limited, the upgrading was performed in a series of 12 construction phases and construction contracts at a cost of over $600 million. Today it provides treatment for 110 mgd of wastewater at average conditions and has a maximum capacity of 220 mgd of wastewater for the 684,569 New Yorkers it serves.
Schedule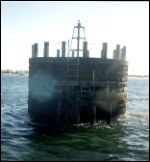 Project is scheduled to be completed in December 2011.

Cost

Cost of the Coney Island Wastwater Treatment Plant project is $48 million.

Community Issues

Because of the close proximity to the neighborhood, odor control is an on-going issue at the plant. To alleviate any odor issues, the plant is equipped with an extensive odor control system and the primary and aeration tanks are covered.