A 23-year-old woman sitting on a back-seat passenger's lap was killed and six others were injured when the packed car they were riding in collided with another vehicle at a Queens intersection Sunday morning, police said.

The 2004 Audi A6 sedan, which was crammed-full with a driver and six passengers, collided with a green Honda, driven by a 52-year-old woman, after running a stop sign on 120th St. at Linden Blvd. in South Ozone Park around 4:25 a.m., police said.

The black Audi, which is designed to seat five in total, had been traveling north on 120th St. when it rammed the Honda and then slammed into a wall and flipped, police said.

The driver of the Honda had been heading west on Linden Blvd. at the intersection, according to witnesses.


Emergency responders pulled 23-year-old Desray Leroy, of Queens, from the wreckage and rushed her to Jamaica Hospital, but she died from head trauma, police said.


The Audi involved in the collision flipped onto its roof. (Marc A. Hermann/for New York Daily News)

The 25-year-old driver of the Audi, who suffered a broken femur, and the five other passengers in the car were also rushed to Jamaica Hospital with non-life threatening injuries, police said.

The 53-year-old woman driving the Honda, identified by police as Ray Mouton, was arrested at the scene and charged with aggravated unlicensed operation of a vehicle, police said.

It was not immediately clear if either driver would be charged with a crime.



=============


1 dead, at least 6 injured after violent Queens crash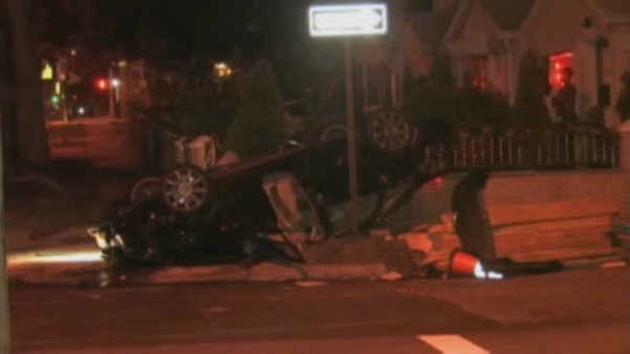 CeFaan Kim
Updated 1 hr 56 mins ago
SOUTH OZONE PARK, Queens (WABC) -- An Audi flipped upside down as a result of a devastating crash early Sunday morning, killing a 23-year-old woman who was riding inside.

Police say the driver of the Audi ran the stop sign. Everyone in that car and the other vehicle, a green Honda, were injured - a total of seven people in all, including the 25-year-old driver of the Audi, who suffered a broken femur.


Police say the vehicle was crammed with people - six passengers, including Desray Leroy, who was in a passenger's lap in the back seat. She did not survive.

Neighbors say it was obvious that the crash was fatal.

"Glass shattered all over. Detectives all over - looking over seeing what's going on, seeing how it happened, nobody has applied brakes," said Dyarel Somwaru.


"I was like, maybe they drink, had a few drinks? Stuff like that. Because nobody drives so speeding (sic) on this road," says resident Satro Somer.

On Sunday, police confirmed neighbor's suspicions. The driver of the green Honda, 53-year-old Ray Mouton was arrested and charged with drunk driving. She had no license.

Desray Leroy's family is gathering at her home, just five minutes from the crash scene. They are understandably distraught, and are asking for privacy.