A furniture and electronics store was destroyed by fire Thursday morning on Chicago's Northwest Side.

By Will Jones and Laura Podesta
Thursday, June 01, 2017 06:29PM
CHICAGO (WLS) -- A furniture and electronics store was destroyed by fire Thursday morning on Chicago's Northwest Side.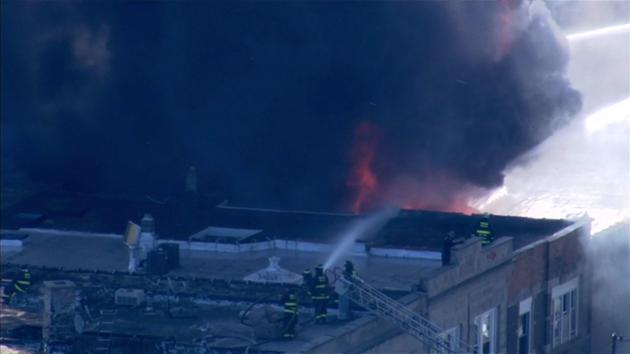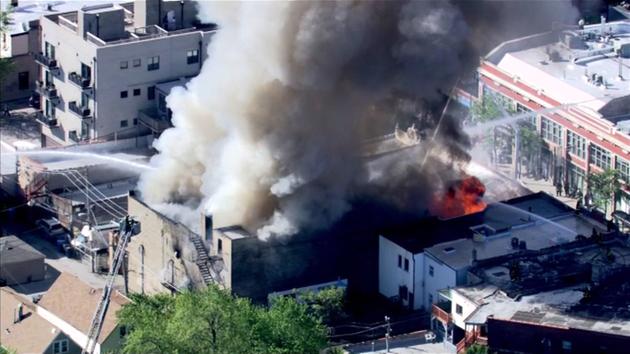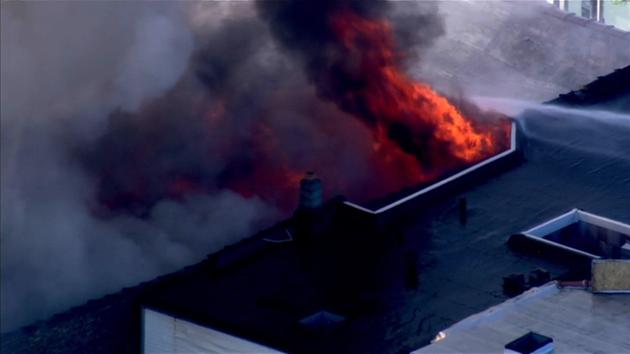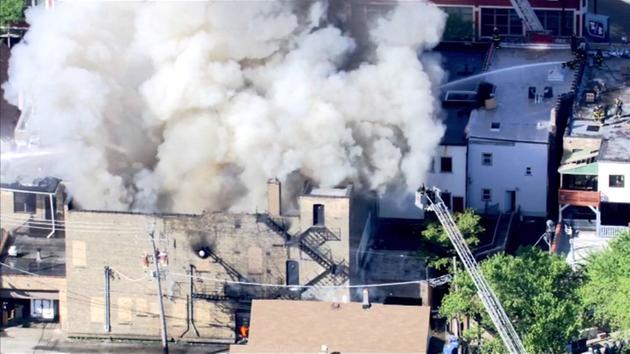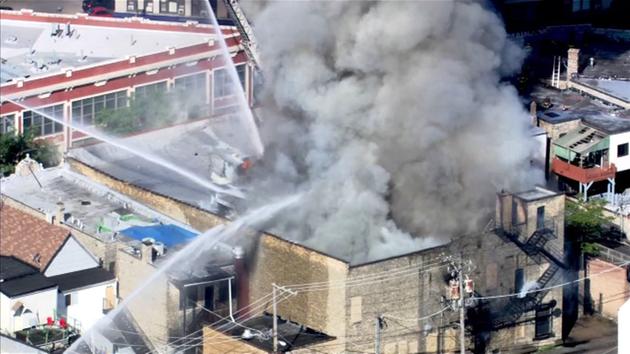 Firefighters responded around 7:40 a.m. to a report of a fire at Famsa Furniture in the 2900-block of North Milwaukee. Flames were through the roof. The fire was upgraded to a two-alarm around 7:45 a.m. and to a three-alarm around 8:40 a.m., officials said.

About 150 firefighters battled the blaze in defensive mode, attacking the flames from the outside. Chopper 7HD was over the scene around 7:55 a.m. Heavy smoke was billowing from the structure. The roof collapsed just after 8:55 a.m.

Stephen Kaplan, who lives nearby, said the smoke was so thick it woke them up.

"There's a crack in my window, so it was just coming in. It seemed pretty bad until we looked out and put our heads out the window as saw what was happening next door," Kaplan said.

North Milwaukee Avenue was closed between North Kimball and Central Park avenues for several hours during the firefight.

"Upon entry in the building they detected a heavy presence of smoke throughout the first floor so as they were dropping lines to try to make an interior attack with their thermal imaging they were picking up very high heat signatures in the ceilings above them," said Assistant Deputy Fire Commissioner Timothy Sampey, Chicago Fire Department.

That's when the battalion chief ordered all of the firefighters out of the building for their safety, switching their focus to attacking this fire from the outside.

"It is a stubborn fire. It is a furniture store so you have a lot furniture in the basement. You have a lot of furniture on the first floor and the second floor with limited access to the second floor," Sampey said.

It took about three hours and 150 firefighters to put the fire out.

"The building is pretty much a total loss. It's an imminent danger of collapse. The front faade could come down at any time," Department of Buildings Commissioner Judy Frydland said.

Jose Avila is the manager of the store. He told us in Spanish he got the call around 8 a.m. that the store was on fire. At first he thought it was minor. Now, seeing it up close, he is devastated along with those who have shopped at this

"It was a pretty nice store. They give you decent prices and they treated you nice," said Harry Morrow, a customer.

Investigators said it's not clear how the fire started. They said the doors to the store were locked at the end of the night Wednesday and firefighters had to force their way inside because the doors were still locked Thursday morning.

No one was injured. The store was closed when the fire started. Firefighters said no one was inside.

The store is part of a chain. All six employees who work at the store will be relocated - they will not lose their jobs.

The building will be demolished as soon as possible due to fears that it could collapse.
==============




CHICAGO, IL -- A spectacular extra-alarm fire at a Logan Square furniture store sent smoke pouring into the air as firefighters battled the flames for hours. No one was injured.

The smoke from the fire was visible from O'Hare Airport and from much of the South Side. It took firefighters more than three hours to strike it, working most of the time in defensive mode.

The fire started just before 8:00 this morning in the Famsa Furniture Store in the 2900 block of North Milwaukee Avenue, just south of Central Park Avenue in Logan Square.

No one was inside the building when the fire started. The store, which sells appliances and electronics in addition to furniture, was not yet open.

Police received an alert that the alarm in the building went off this morning. It was a motion detector.

When police arrived they found smoke and called the Fire Department. It was quickly elevated to a 3-alarm fire.

Fire officials say first responders had a huge task.

The building is now a total loss. Building Department officials say it is in danger of coming down, collapsing at any time. A facade is being erected as soon as possible because the only things holding it up right now are buildings on either side.

This stretch of Milwaukee Avenue will be closed today. The power is out and businesses there are hurting.

Drivers are urged to avoid this area around Logan Square, particularly this stretch of Milwuakee.

No cause for the fire is known at this time.