NEW YORK (FOX 5 NY) - Heavy rain falling on the tristate area Friday sparked flash floods in several areas.

Firefighters rescued several dozen people from cars that got stuck in floodwaters in Hackensack, New Jersey, officials said.

In nearby Hasbrouck Heights, cars drove through a flooded ramp off Route 17.


Heavy rain sparks flash floods in New York and New Jersey

Parts of Hoboken, New Jersey, were under water during the rain. Officials advised motorists to stick to the northern part of the city, while cops closed off streets.

A retaining wall underneath the Gowanus Expressway at Hamilton Avenue and 17th Street in Brooklyn collapsed. Water gushed over the crumbled wall. DOT crews responded to make repairs.

Weather conditions at LaGuardia, Newark, and Kennedy airports caused flight disruptions.

The West Side Highway in Manhattan was closed for about 10 blocks because of flooding, causing gridlock for several hours. The road reopened just before 5 p.m.

Cars plowed through flooding on the Central Park transverses (also a bad idea).

Wet conditions were reported in subway and train stations, prompting problems. N and W trains were suspended between 57 St-7 Av and Queensboro Plaza for several hours because of water conditions. Service resumed at about 4:30 p.m. Flooding in Penn Station caused a temporary closure of an entrance and two tracks.



============



Flooding Wreaks Havoc on Roads, Transit Across Tri-State
Rain totals topped 3 inches in some parts of the tri-state Friday, according to Storm Team 4



Parts of tri-state are facing serious cleanup after a deluge of rain on Friday. Michael George reports. (Published Friday, May 5, 2017)

What to Know

Heavy rains have caused flooding in New York City and flight delays in the region

Cars were submerged in parts of New Jersey; subway and PATH riders had to deal with leaky stations and service suspension

Spotty showers are possible through the weekend, with temperatures lingering in the low-to-mid 60s, Storm Team 4 says

Heavy rain and strong winds battered the tri-state area Friday, flooding parts of New York City and New Jersey within minutes, submerging cars and taking down highway retaining walls, suspending some transit service and delaying flights by nearly six hours.

Subway, Rail Stations Leak, Flood Amid Storm

Penn Station shut down its main entrance at 32nd Street and Seventh Avenue for about an hour because of the heavy rain; the stairwell at 31st Street was also closed. Workers were scrambling to contain and clean up after leaks at World Trade Center's Oculus, while water cascading down inside Grand Central Terminal forced people to walk through the halls with their umbrellas open. Some subway stations were flooded and water was pouring down ceilings.

Subway, Rail Stations Leak, Flood Amid Storm

Flooding made for an unpleasant experience inside subway and rail stations, as water cascaded from ceiling and down stairs. PATH service was also suspended. Marc Santia reports.(Published Friday, May 5, 2017)

PATH service from both Journal Square and Hoboken into 33rd Street in Manhattan was suspended after heavy rain poured down a manhole and onto the third rail at Christopher Street, knocking out power, law enforcement sources said. Crews were working to pump out water and get service back up and running. In the meantime, NJ Transit rail and buses are cross-honoring.

Water Pours Down Inside Grand Central Terminal

Water was pouring from the ceiling and the ground was flooded in Grand Central Terminal Friday, with one woman even holding her umbrella open inside to shield herself from the deluge.(Published Friday, May 5, 2017)


Highways and roads across other parts of northeastern New Jersey flooded quickly: water rose quickly on Route 440 and West Side Avenue, and cars were completely submerged in some parts.

In Hoboken, the police chief asked people not to drive unless it's an emergency due to massive flooding. Video posted to social media showed pedestrians wading in ankle-deep water in the middle of Hoboken intersections.

Flash Flooding Turns NJ Street Into a Stream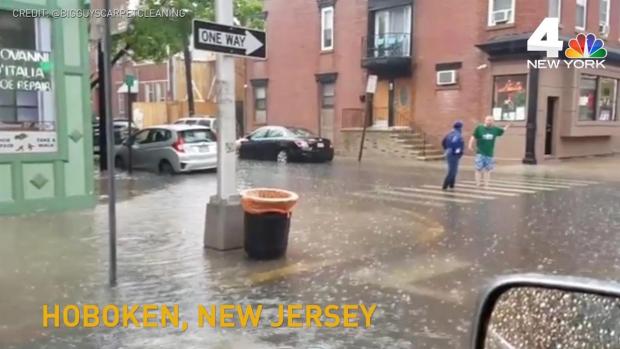 Footage shows one Hoboken street strreaming with water after flash flooding on Friday, while water was pouring down the walls at Borough Hall subway station during the deluge.(Published Friday, May 5, 2017)

Traffic crawled on New York City roadways, some of which temporarily closed because of the flooding. The West Side Highway was closed in midtown briefly because of the rising water. Streets in Gowanus, Brooklyn, were flooded, and a stone wall collapsed under the elevated Gowanus Expressway at 17th Street and 3rd Avenue. Fire officials on the scene said too much water caused the wall to slide.

Wall Collapses Underneath Gowanus Expressway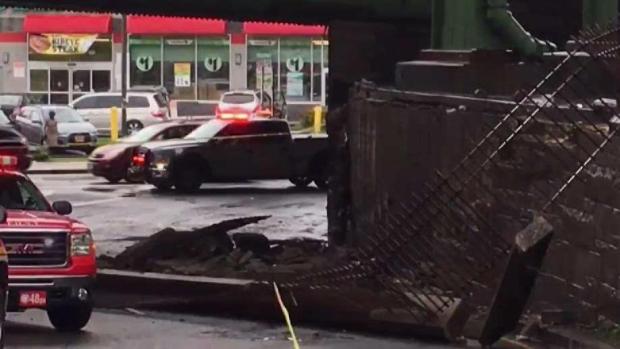 In Brooklyn, the weight of the water brought down a wall right underneath the Gowanus Expressway. John Chandler reports.(Published Friday, May 5, 2017)

Local airports were crippled by the intense weather system. Delays at JFK Airport were pushing six hours by early evening, while Newark and LaGuardia were reporting delays exceeding three hours, respectively.

Storm Team 4 said rain was likely to soak much of the region through the early afternoon. Another round of scattered showers may develop in the evening, and while drivers may deal with residual flooding, conditions should improve drastically on the roadways through the evening.

Three inches of rain had fallen on Central Park by late afternoon, according to Storm Team 4. Teterboro Airport saw 3.2 inches, and LaGuardia Airport in Queens saw 2.2 inches.


The weekend won't be a washout. Saturday appears to be the warmest weekend day, with forecasters predicting a high of 66 degrees for the city. It's also the most likely for rain, with showers expected in the afternoon hours. Sunday's highs will be in the low 60s under partly cloudy skies.

The cooler trend continues into next week, Storm Team 4 says, with the mercury expected to stay in the 50s Monday and Tuesday. The chance for additional showers ramp up by Thursday as temperatures stay below average for mid-May.