PLANO, TEXAS

Racing led to the fiery crash that killed two Plano students and injured a third last month, Plano police say.

Early in the investigation, Plano police said the driver of the 2016 Porsche Macan had been speeding but the connection to racing wasn't revealed until now.


Plano Family Feels Grief, Gratitude After Deadly Crash

Police said Samantha Sacks, 16, and Lilly Davis, 16, were killed on impact when Sacks' SUV slammed into a tree on Mira Vista Boulevard at about 11:30 p.m. Feb. 10. Kendall Murray, 16, was in the car with Sacks and Davis -- she was pulled to safety and was hospitalized in critical condition following the crash.

Plano police spokesman David Tilley told The Dallas Morning News Sacks and the driver of another car were racing along Mira Vista Boulevard when the other driver, a juvenile, stopped at the four-way stop at Wayfarer Drive. Sacks continued on, Tilley said, stirking a curb and losing control of her vehicle before crashing into a tree.

Grief, Gratitude for Plano Family Following Crash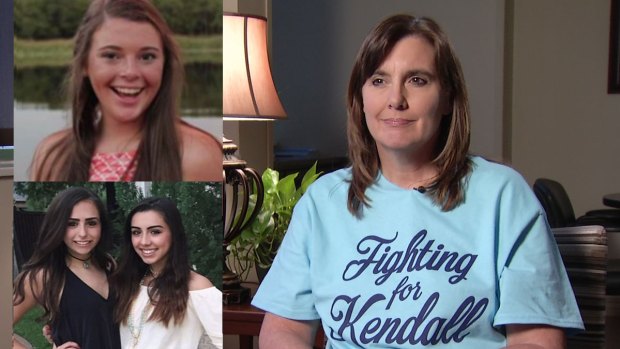 A Plano mother says she's grateful for the support her family has received since a crash that severely injured her daughter and killed two teenagers.(Published Wednesday, March 1, 2017)

Tilly told the paper the occupants of the other vehicle pulled Murray from the SUV, likely saving her life, and that they have been cooperative and forthcoming in the investigation.

Police said charges remain a possibility in the crash.

=========





Plano police confirm two 16-year-old girls died and another was injured when the Porsche they were traveling in crashed into a tree late Friday night.

Family and friends identified the victims as Samantha Sacks and Lilly Davis. Sydney Sacks, the older sister of Samantha, gave NBC DFW a picture of her sister and Davis standing side by side.

Two Teens Killed in Plano Crash

(Published Saturday, Feb. 11, 2017)

Friends confirmed Kendall Murray was injured in the collision. She remains hospitalized at Medical City Plano and was listed in critical condition Saturday evening.

"All three of the girls in the accident were best friends. They played volleyball together so they're really good friends," Sydney said.

The crash happened Friday around 11:30 p.m. in the 1600 block of Mira Vista Road.

Officers said the 2016 Porsche Macan was speeding southbound when the driver struck a tree in the road's median.

Police said Sacks and Davis died at the scene.

Sydney Sacks said she and her sister did everything together.

"She had such a bright future ahead of her. She wanted to be a doctor. She wanted to go to Harvard," Sydney said.

"She was always bold and honest and always a light, always laughing," friend Kyra Cooper said about Davis.

Police said they found Murray with serious injuries near the burning vehicle. Plano Fire-Rescue took her to the hospital.

The Plano Police Department's traffic unit is investigating the crash.