The dead wrong-way driver Aretha Chavis

Most fatal drunk- or junkie-related traffic accidents occur in the early a.m. hours, just like in this instance. Blacks also commit a disproportionate number of traffic accidents relative to their percentage in the population. They also commit fifty (50) percent of all homicides while they are only 13.5% of the population. And then these people claim that they are targeted by police!





Family identifies driver killed in I-85 crash in Durham early Monday morning

DURHAM, North Carolina (WTVD) -- Durham police are piecing together a wrong-way crash that left two people dead, one critically hurt, and seven less-seriously injured early Monday morning.

It happened along Interstate 85 near exit 179 for Club Boulevard.

Authorities said around 12:15 a.m., a red Hyundai Sonata and a Ford Expedition with a Pennsylvania license plate collided in the northbound lanes of I-85.

Police said the woman driving the Hyundai was headed the wrong way. The woman - who was identified by friends and family as Aretha Chavis - was killed.

"She was my best friend, my sister, my rock, my everything," Chavis' friend Janet Roberts said.

Janet Roberts owns the Hyundai Sonata. Chavis was driving alone when the car collided with the Ford Expedition.

The driver of the SUV - 29-year-old Jerry Alamo of Central Falls, Rhode Island - was also killed. A passenger - 36-year-old Glenda Alamo - suffered critical injures.

The other passengers - three children (ages 4, 11 and 10) and four adults (ages 16, 21, 22 and 32) - were taken to the hospital for treatment.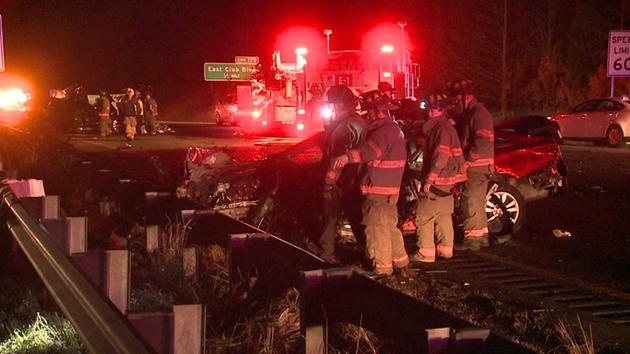 Authorities in Durham are investigating a crash that killed two people on Interstate 85

Durham police told ABC11 that Alamo and Chavis were killed instantly

Police are trying to learn why Chavis got on the interstate in the wrong direction.

"They called me first. I was the only number that they knew," said Chavis's cousin Robbin Chavis Williams. "My cousins called me and said 'she's gone' and I said, 'no she's not.' But now she's gone and there's no better person in the world."

Northbound lanes of I-85 reopened just before 5:30 a.m. after being closed for several hours.