YONKERS, Westchester County (WABC) -- One person has died after a four-alarm fire burned through a large Yonkers apartment building Wednesday, forcing firefighters to battle both flames and weather conditions.


The fire started in an apartment on the fifth floor of 1 Hawley Terrace just after 4 a.m., and quickly spread to the upper floors and through the roof.






Firefighters were battling the weather conditions, including digging out hydrants, snow in the streets and reports of low water pressure.

"Fire looks like it started possibly on the fifth floor of the eighth story building and traveled up through the common cockloft area," said Yonkers Deputy Fire Chief Thomas Fitzpatrick. "Fire is traveling from one side to the other. We tried a couple different tactics. This fire poses several problems, with the snow, freezing hydrants, snow."

Another look at the fire: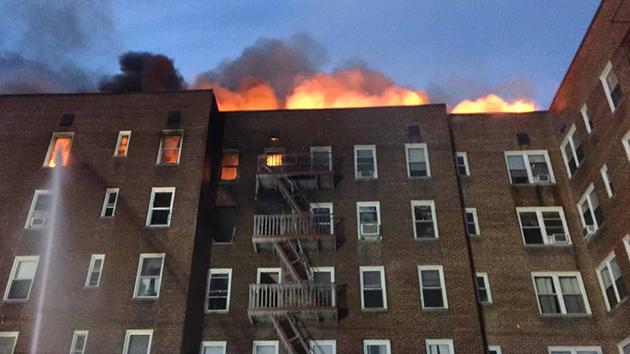 (Yonkers Fire Department)

Yonkers fire officials confirmed that a fifth-floor resident was killed in the fire.

Residents from 56 apartments in the large building were evacuated and taken to the Yonkers Police Athletic League for shelter. Estimates of as many as 100 residents were evacuated, some on stretchers.



One or two firefighters went to the hospital.

"It's quite slippery at this point," said Fitzpatrick, referring to the snow and ice. "We are doing the best we can, this fire is raging out of control at this point."