Magnitude 5.0 quake strikes near Cushing, Oklahoma: USGS
In a report released last year, the Oklahoma Geological Survey said that the earthquakes were linked to the practice of injecting wastewater from oil production into the ground.


An earthquake with a preliminary magnitude of 5.0 struck near Cushing, Oklahoma, prompting evacuations, but there were no reports of injuries, authorities said.

The quake was centered 2 miles (3.2 km) west of Cushing, a small city of about 8,000 people some 50 miles west of Tulsa, which is the location of intersecting oil pipelines and is considered a hub for crude oil shipment.

The oil and gas division of the Oklahoma Corporation commission said in a statement that they are in contact with pipeline operators, but so far there were no immediate reports of damage to pipelines.

A spokesman for Enbridge Energy Partners, which has storage capacity of 20.1 million barrels at Cushing, told CNBC there was no impact to its facility, and operations were continuing as normal. A representative from Magellan Midstream Partners said an initial assessment turned up no signs of damage associated with the quake.

Cushing authorities said the downtown area was being evacuated due to gas leaks and infrastructure inspection.

The quake was among the larger temblors felt recently in Oklahoma, part of a flurry of seismic activity geologists say is linked to energy production and is fueling growing concern.

People posting on Twitter, including some as far away as Kansas City, Missouri, reported that they felt the shaking.

Pictures on Twitter showed broken concrete that apparently fell from buildings in downtown Cushing and products littering the aisles of stores after being shaken from shelves.

Cushing High School canceled classes on Monday in order to assess damage, according to a message on its Facebook page.

Two smaller earthquakes, one at a 3.1 magnitude and the other at a 3.6 magnitude, rattled the area around Perry, Oklahoma, earlier on Sunday.

About two months ago a magnitude 5.6 quake, one of the strongest ever recorded in Oklahoma, shook the area.

Most earthquakes occur naturally, but scientists have long linked some smaller tremors to oil and gas work underground, which can alter pressure points and cause shifts in the earth.

In a report released last year, the Oklahoma Geological Survey said that the earthquakes were linked to the practice of injecting wastewater from oil production into the ground.

Some of that is related to hydraulic fracturing, or fracking, which involves injecting water, sand and chemicals at high pressure into rock to extract natural gas or other products. But the report said fracking is responsible for only a small percentage of the wastewater injected into wells in Oklahoma.
====

Earthquake Causes Damage in Central Oklahoma

by The Associated Press




Buildings Damaged by 5.0 Quake in Oklahoma 0:53

A 5.0-magnitude earthquake centered near one of the world's key oil hubs brought down building facades and shattered windows.

Damage at The Cushing Citizen newspaper building in downtown Cushing, Oklahoma, after an earthquake Sunday night. Cushing Citizen

The temblor triggered fears that key infrastructure may have been damaged and century-old buildings left unsafe in the latest Oklahoma town rattled by increasingly strong quakes.

Cushing Assistant City Manager Jeremy Frazier told a news conference late Sunday that a few minor injuries were reported. He said the damage appeared to be contained to downtown, where piles of debris sat at the base of some commercial buildings.

City Manager Steve Spears noted that while some damage was superficial, compromised foundations and other potential problems would be difficult to assess until daylight in the city of 7,900 about 50 miles northeast of Oklahoma City.

The quake struck at 7:44 p.m. Sunday and was felt as far away as Iowa, Illinois and Texas. The U.S. Geological Survey initially said Sunday's quake was of magnitude 5.3 but later lowered the reading to 5.0.


Oklahoma has had thousands of earthquakes in recent years, with nearly all traced to the underground injection of wastewater left over from oil and gas production. Sunday's quake was centered one mile west of Cushing — and about 25 miles south of where a magnitude 4.3 quake forced a shutdown of several wells last week.

"I thought my whole trailer was going to tip over, it was shaking it so bad," said Cushing resident Cindy Roe, 50. "It was loud and all the lights went out and you could hear things falling on the ground. It was awful and I don't want to have another one."

Cushing's oil storage terminal is one of the world's largest. As of Oct. 28, tank farms in the countryside around Cushing held 58.5 million barrels of crude oil, according to data from the U.S. Energy Information Administration. The community bills itself as the "Pipeline Crossroads of the World."

Frazier said two pipeline companies had reported no trouble as of late Sunday but that the community hadn't heard from all companies.

According to USGS data, there have been 19 earthquakes in Oklahoma in the past week. When particularly strong quakes hit, the Oklahoma Corporation Commission directs well operators to seize wastewater injections or reduce volume.

A 5.8 earthquake — a record for Oklahoma — hit Pawnee on Sept. 3. Shortly afterward, geologists speculated on whether the temblor occurred on a previously unknown fault.

======


Oklahoma Hub Pipelines Resume Operations After Earthquake
Jessica Summers jessicaisummers
November 6, 2016 — 11:59 PM EST Updated on November 7, 2016 — 10:38 AM EST

Earthquake struck west of Cushing, Oklahoma, USGS says

Oklahoma regulator says all lines in jurisdiction back up

Pipeline owners near a crucial Oklahoma oil hub reported little damage and resumed normal service after a magnitude 5 earthquake struck late Sunday.

Oklahoma's oil and gas regulator reported that all pipelines under its jurisdiction were operating again after shutting down as a precaution because of the temblor, centered less than 2 miles west of the city of Cushing.

It's the second sizable quake in the past two months for the area, which serves as a delivery point for West Texas Intermediate crude and sets the benchmark U.S. oil contract price. Oil futures rose 38 cents to $44.45 a barrel at 10:34 a.m. on the New York Mercantile Exchange.

"It's definitely a long-term negative development if you are getting earthquakes of that magnitude at such an important site," Bob Yawger, director of the futures division at Mizuho Securities USA Inc. in New York, said by telephone. "It doesn't bode well for the future."

The Oklahoma Corporation Commission hasn't ordered the shutdown of any waste-water disposal wells in the area after the earthquake, Matt Skinner, a spokesman for the agency, said by phone. The regulator "is working on an action plan" regarding disposal-well operations in the Arbuckle formation, according to an e-mailed statement. When a similar-magnitude quake hit the state in September, the agency ordered 37 wells shut.

Magellan Midstream Partners LP, a pipeline operator, resumed normal operations at Cushing late Sunday after a controlled shutdown of its assets after the quake, spokesman Bruce Heine said in e-mailed statements. Enbridge Inc. spokesman Michael Barnes said by e-mail that there was no effect on the company's facility in Cushing.

Magellan typically discontinues operations to check the integrity of assets if an earthquake over a certain strength occurs, Heine said. Kinder Morgan Inc., another pipe operator, hasn't had any issues affecting its Cushing operations, Richard Wheatley, a Houston-based spokesman for the company, said in an e-mailed statement.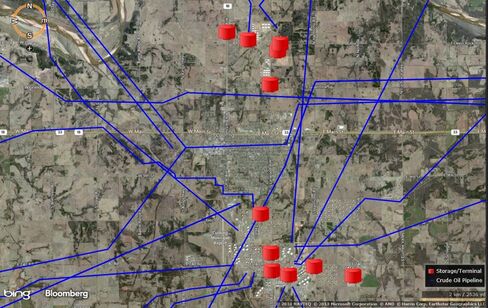 Electricity has been restored to almost all of Cushing, about 70 miles northeast of Oklahoma City, Jeremy Frazier, assistant city manager, told reporters at a televised press conference late Sunday. Authorities have been in contact with tank farms in the area and there has been no damage to terminals, he said. While some gas leaks occurred, they have been contained and are no longer a threat, according to Frazier. There was some structural damage to buildings in the city's downtown area, he said.
Other Tremors

Several producers, as well as the U.S. Environmental Protection Agency, are facing lawsuits because of seismic activity allegedly linked to oilfield wastewater disposal in Oklahoma and other states. The OCC, which regulates oil and gas activity in the state, has been issuing restrictions for more than a year aimed at cutting down on the amount of wastewater injected into underground wells.


There are about 35,000 active wastewater disposal wells, though only a few dozen have been linked to quakes, according to a Bloomberg Intelligence report in May, citing the USGS. A 5.6 magnitude tremblor had struck Oklahoma in September, which tied a state record set in 2011. Following earthquake at Cushing on Sunday, minor tremors occurred at Nicoma Park, east of Oklahoma City, and Fairview, in the western part of the state.

The region, previously not known for intense seismic activity, began having a significant number of earthquakes in 2009, the same year area oil companies began using fracking to shatter deep rock layers to extract oil and gas. Fracked wells produce large quantities of wastewater, which drilling companies inject into ultra-deep disposal wells.