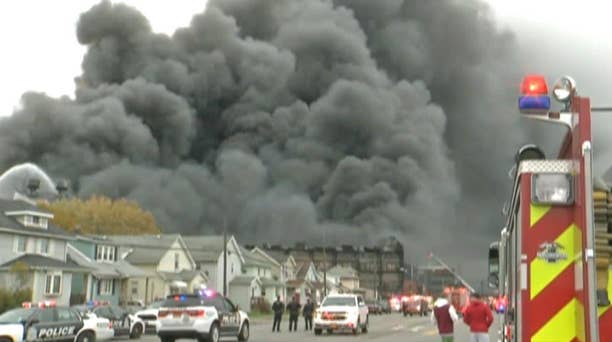 LACKAWANNA, N.Y.-- Fire and demolition crews continue to work at the scene of the Bethlehem Steel fire.

Early Friday morning 2 on Your Side spoke to Lackawanna mayor Geoffrey Szymanski. He said that air quality around the site is improving, and is now down to zero. The evacuation order will be lifted at 2pm. The State of Emergency will still be in effect.

Route 5 will remain closed between Ridge Road and Route 179, while firefighters and demolition crews continue to work the scene.

Szymanski also says investigators have ruled out the light bulb theory as the cause of the fire. The actual cause is still under investigation.

Route 5 remains in both directions between Milestrip Road and Ridge Road Friday morning. Officials say they hope to have it reopened sometime Friday afternoon, but Szymanski says one of the structure's walls is buckling and there are fears that it could fall onto the road.

Lackawanna Fire Chief, Ralph Galanti says that two fire crews from Lackawanna and an addition crew from Buffalo are working with a demolition crew to uncover spots that are still burning. As of Friday morning, the fire is under control, but not out. They are also concentrating on demolishing the unstable parts of the 1 million square-foot structure, making it safer for crews to get inside. Officials say there is no way to tell how long fire crews will be at the scene.



======================

Former steel mill fire prompts evacuation of 300 homes in New York

Published November 10, 2016
Associated Press
LACKAWANNA, N.Y. – Officials have ordered the evacuation of 300 homes downwind of a fire at a former steel mill site outside Buffalo, citing air quality concerns.

Fire crews remain at the smoky scene in Lackawanna on Thursday, 24 hours after the fire started inside a massive building housing several businesses on the former Bethlehem Steel site.

Officials say the blaze is contained but may continue to burn for days in hard-to-reach areas.

Democratic Gov. Andrew Cuomo visited the site Thursday. Local schools were closed due to smoky conditions.

Families were asked to stay with friends or relatives, or go to shelters at a senior center and the high school.

More than 100 firefighters from Lackawanna, Buffalo and other communities struggled throughout Wednesday to extinguish the blaze. No injuries have been reported.