'Weed World Candies' RV catches fire on Delaware Memorial Bridge (PHOTOS)


DELAWARE MEMORIAL BRIDGE (WPVI) -- The marijuana advocacy group Weed World Candies confirms one of its promotional recreational vehicles (RVs) caught fire on the Delaware Memorial Bridge.

It happened around 6 p.m. Sunday on the eastbound side of the bridge heading into Salem County, New Jersey.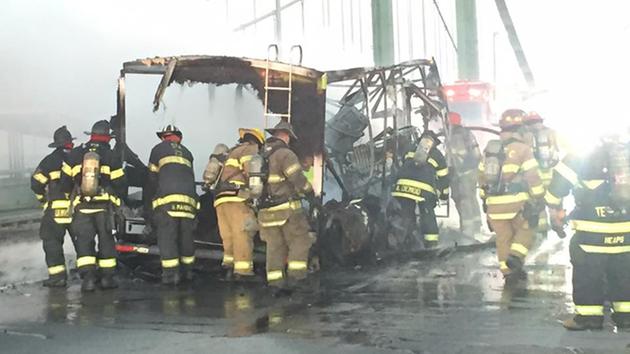 Police say the RV, which was filled with marijuana candy, was en route to Philadelphia when it caught fire, sending flames and smoke into the air that could be seen from miles away.

Firefighters quickly arrived on the scene and placed it under control.

Five people inside the RV were said to be uninjured.

Their personal belongings were destroyed, the organization told Action News, along with the product inside the RV.

Traffic snarled as crews worked to clear the scene.

All lanes were reopened around 9 p.m.

No word on what sparked the blaze.

According to the group's website, Weed World Candies was founded in 1999 to promote the legalization of marijuana and hemp products.
Weed World Candies launched in 1999 with the goal to get Marijuana & Hemp legalized and industrialized. We tour the country in a fleet of "loud" vehicles promoting the legalization and decriminalization of marijuana.


Our product strains include Bubble Kush, O.G Kush, Strawberry Cough, White Widow, SkyWalker Kush, Purple Urkle, and A.K 47 to name a few