Governor confirms 18 deaths in North Carolina following Matthew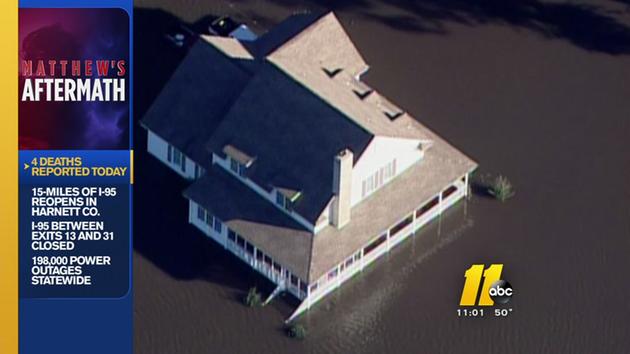 A Goldsboro man is the latest victim attributed to Hurricane Matthew.

Updated 2 hrs 57 mins ago
RALEIGH (WTVD) -- Governor Pat McCrory announced Tuesday that there are now 18 storm-related deaths in North Carolina following Hurricane Matthew.

The U.S. death toll now stands at 34. An estimated 500 people are feared dead in Haiti.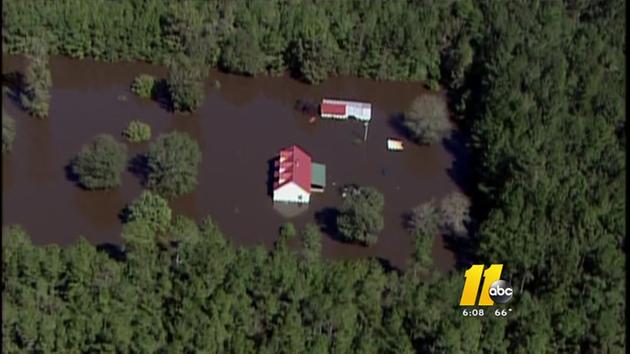 Steve Daniels took an aerial view of the flooding from Matthew. This image is from Sampson County.

Here's what you need to know Tuesday:


Evacuations in Spring Lake, Lumberton, Princeville, Kinston, Lenoir County, Vass and Goldsboro

A boil water advisory has been issued for Fayetteville, Johnston County, Sanford, Lee County, Spring Lake, and parts of Wayne County.

18 people in North Carolina have died.

3 parts of I-95 remain closed in Fayetteville/Lumberton area due to flooding, 1 part of I-40 near Benson also closed

Eastern towns could experience flooding throughout the week.

About 88,000 Duke Energy customers are without power across the state

Federal disaster declaration received for 31 counties. Declaration also approved 10 counties for individual assistance.


Officials are assessing dam overtopping, breaches and failures throughout the state, particularly in Hoke, Moore, and Bladen counties.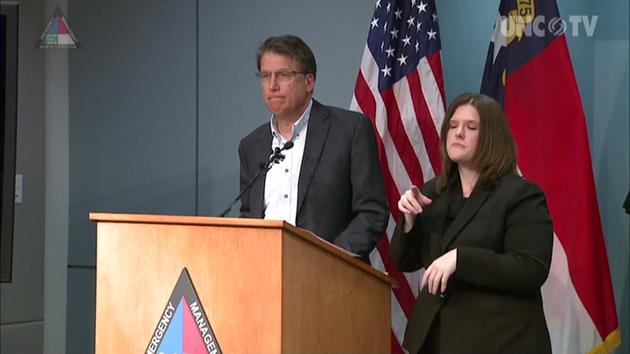 Governor Pat McCrory

The death toll climbed overnight from 11 deaths after McCrory said a tree fell on a Wake County man's truck Monday night and two drivers - one in Cumberland County and another in Wilson County - had their vehicles submerged by rushing flood waters along US-301 and Hwy-51.

Three more have drowned in Columbus and Robeson counties. On Tuesday evening, a death was confirmed in Wayne County. Officials identified him as Lemuel Frank Kornegay, 54, of Goldsboro. Kornegay's car was swept away by floodwaters, Goldsboro Police said.

McCrory also said that a man died in Lumberton after a shooting Monday night involving a North Carolina Highway Patrol officer and two deputies during the high water situation.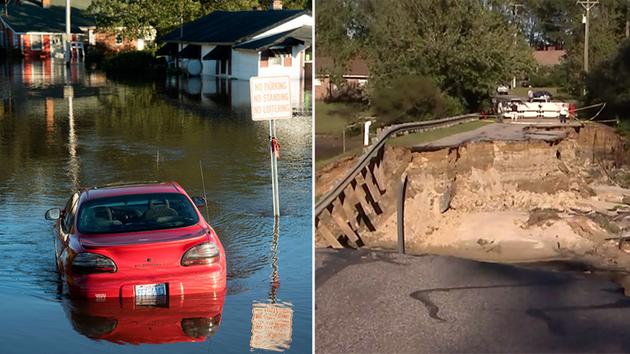 U.S. Marshals rescue a family in Lumberton (left), flooded homes in Lumberton (center), floodwaters caused by rain from Hurricane Matthew block NC Highway 41 west (AP image).

"Our state continues to make progress responding to the devastation from Hurricane Matthew but dangerous conditions persist," McCrory said Tuesday. "We will continue doing everything possible to fight for all available resources to help people recover."

On Monday, McCrory said one of the 14 victims, a 75-year-old man in Gates County, was discovered inside his car.

Earlier, the NC Highway Patrol said a woman died when a vehicle was swept off Monzingo Road in Pitt County.

In Johnston County, a woman died when the car she was in was swept off Interstate-95 at mile marker 83 near Four Oaks.

Also in Johnston County, Highway Patrol said five people traveling on Cornwallis Road near NC-42 were swept off the roadway. Four of the passengers escaped and were able to cling to nearby trees. The fifth person was carried away and died, troopers said.

McCrory said one person in Sampson County and two people in Bladen County have died as a result of the storm. The first person was killed when their car hydroplaned. The two in Bladen died in a flooded vehicle.

The Harnett County Sheriff says a person drowned after they drove past a barricade near Carolina Drive and was swept away into a creek. Sunday afternoon he was identified as 74-year-old Charles Luther Strickland of Dunn. His body was found in the vehicle after it was pulled from the water.

Another person died in a storm-related fire in Rowan County.

The governor has received a federal disaster declaration for 31 counties, opening the door for further federal assistance to recover from the massive flooding caused by Hurricane Matthew.

"A lot of people are hurting right now in the aftermath of Hurricane Matthew and the devastation is beyond words," McCrory said. "This expedited declaration will help provide much needed and immediate federal assistance to communities impacted by Hurricane Matthew. I want to thank our federal partners for approving this declaration quickly and for their continued assistance."

Counties approved for the disaster declaration include: Beaufort, Bertie, Bladen, Brunswick, Camden, Carteret, Chowan, Columbus, Craven, Cumberland, Currituck, Dare, Duplin, Edgecombe, Greene, Hoke, Hyde, Johnston, Lenoir, Nash, New Hanover, Onslow, Pamlico, Pasquotank, Pender, Perquimans, Pitt, Robeson, Tyrrell, Washington, and Wayne counties.

The declaration also approved 10 counties for individual assistance to help homeowners and renters repair or replace damaged homes. Those counties include: Beaufort, Bladen, Columbus, Cumberland, Edgecombe, Hoke, Lenoir, Nash, Pitt, and Robeson counties.

McCrory has warned that the dangerous flooding will continue to be an issue this week after Matthew dumped torrents of rain on our state over the weekend - creating the worst flooding since Hurricane Floyd in 1999.

"North Carolina is resilient, our people are strong and we are going to get through this together," said Governor McCrory. "This storm is still impacting people in a big way. You have got to see it to believe all the devastation that has occurred."

Late Monday night, evacuations were issued for Spring Lake and Vass after Moore County officials and state inspectors announced a leak in the Woodlake Dam in eastern Moore County.

The Woodlake Dam was stabilized early Tuesday morning after an inspector spotted a hole in the dam.


Kinston could face the worst flooding it has ever seen, according to McCrory. There were also evacuations in Princeville and voluntary evacuations of low-lying Goldsboro.


Many residents are also dealing with downed trees and power lines.

There have been dozens of water rescues across central and southern North Carolina as roads flood and homes become inundated following the 5-8 inches of rainfall that fell around the Triangle and 10-15 inches from Fayetteville to Goldsboro Saturday.

Interstate 40 remains closed in both directions between I-95 and the NC-242 interchange. I-95 is closed in Cumberland County. Dozens of smaller roads are closed across the region.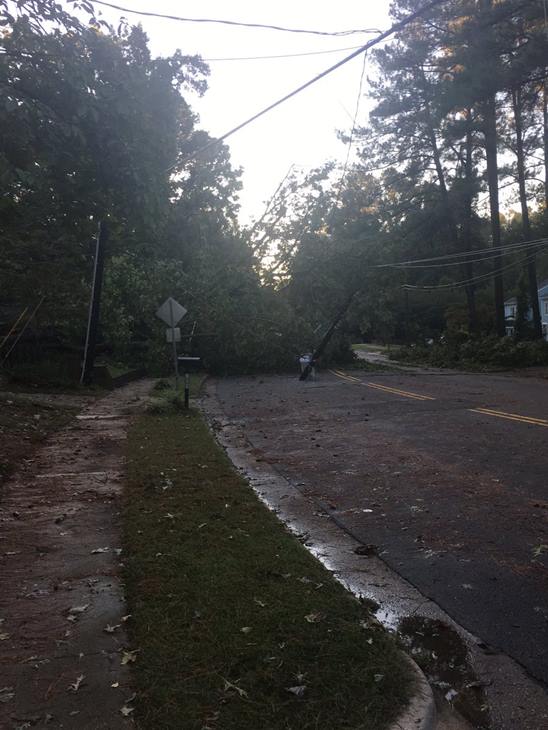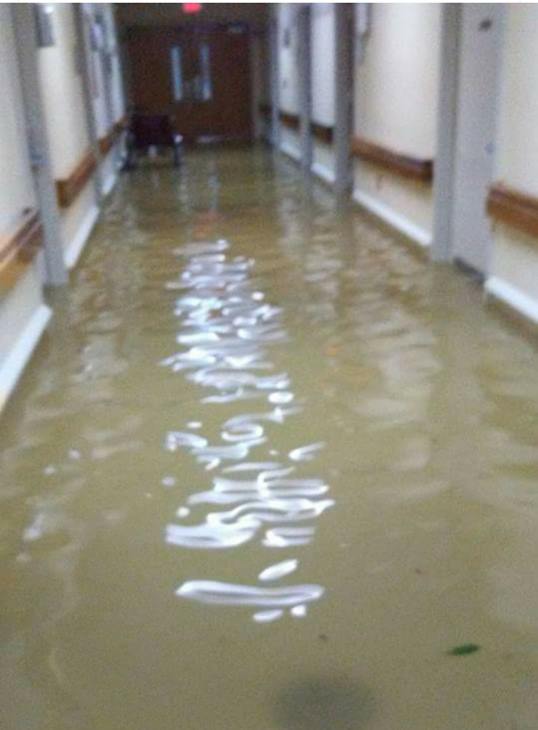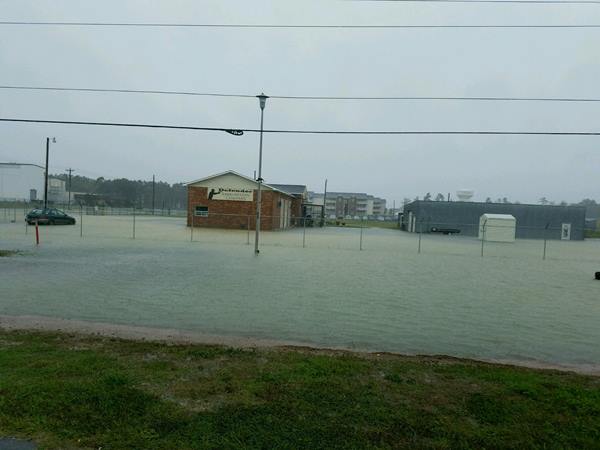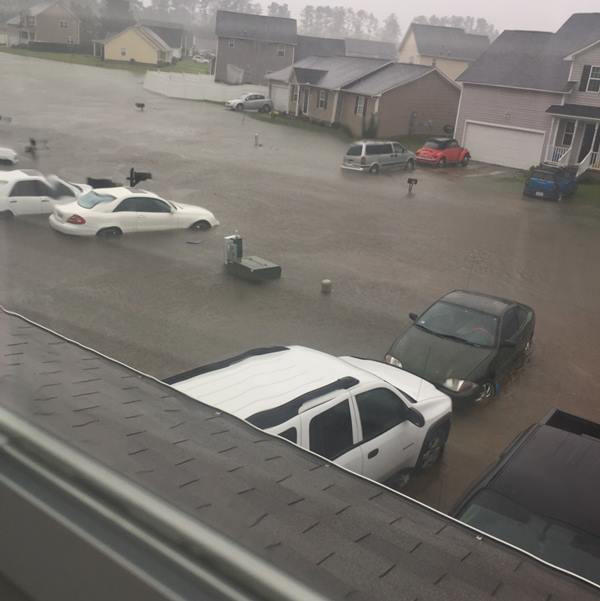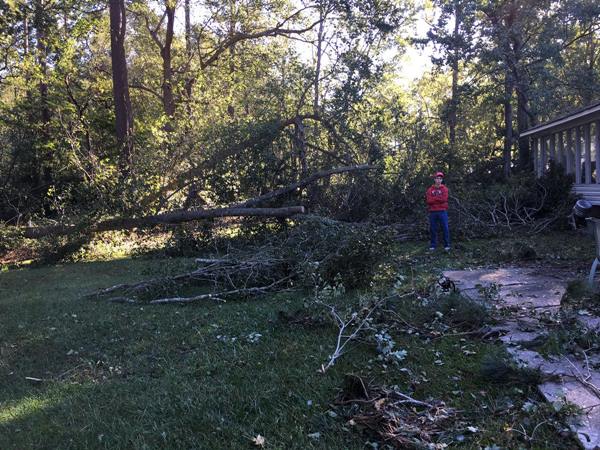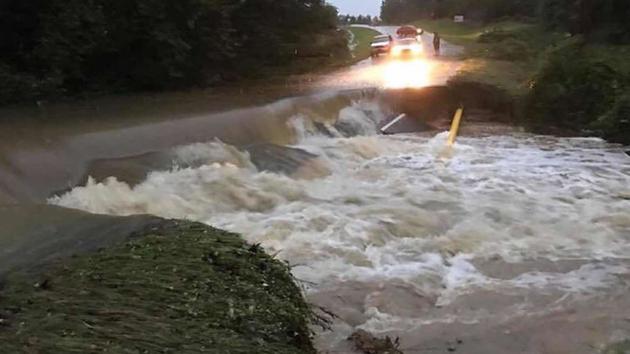 ABC11 Eyewitness photo - Athens Drive

ABC11 Meteorologist Don 'Bigweather' Schwenneker said even though it's going to be dry for the week ahead, it's going take time for all this water to move away. "We still have roads underwater and areas where the water is not draining due to debris" Bigweather continued, "If you see water over a roadway, you need to treat it seriously and don't drive through it!"


In Southport residents and businesses owners have boarded up and are ready for Hurricane Matthew.

Flooding is still a concern in the Sandhills. Officials are asking people to stay home if they can and to never drive through water over the road.






North Carolina Attorney General Roy Cooper is also warning residents about scams connected to Matthew.