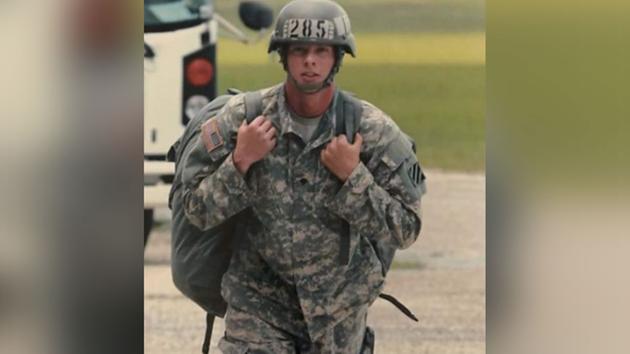 Spc. Matthew S. Roland

Updated 22 mins ago
RALEIGH (WTVD) -- An 82nd Airborne Division Paratrooper based at Fort Bragg has died after a motorcycle accident in Raleigh on Sept. 17.

Police said 23-year-old Spc. Matthew S. Roland, of Dublin, Ga., was involved in a crash at the intersection of Lead Mine Road and Bridgeport Drive.

A passenger on the motorcycle was seriously hurt.

The Army said Roland was a Cavalry Scout assigned to A Troop, 5th Squadron, 73rd Cavalry Regiment, 3rd Brigade Combat Team, 82nd Airborne Division.

"Spc. Matthew Roland was a remarkable Paratrooper for A Troop, this squadron, and the 82d Airborne Division," said Lt. Col. Scott Pence, commander of the 5th Squadron, 73rd Cavalry Regiment, the "Panther Recon" squadron. "Our thoughts and prayers are with his Family during this difficult time. He arrived in July and quickly earned the trust and admiration of his platoon and troop ... Roland and his Family will always be members of the Panther Recon family."

Roland is survived by his mother, father, and sister.
====================
Raleigh Police Investigate Crash that Killed Motorcyclist

By TWC News
Tuesday, September 20, 2016 at 09:15 AM EDT



RALEIGH - A motorcyclist has died from his injuries after a weekend accident.

Police say it happened at the intersection of Lead Mine Road and Bridgeport Drive late Saturday night.

A wreck report shows the motorcyclist, 23-year-old Matthew Roland of Georgia, was travelling straight on Lead Mine Road when a car turned out in front of him.

The Raleigh police department is investigating the accident.

No charges have been filed.
=============





82nd Airborne paratrooper dies after Fort Bragg traffic collision

By CBS North Carolina Published: May 13, 2016, 2:07 pm





Spc. Javier Enrique Aguilar

FORT BRAGG, N.C. (WNCN) – A member of the 82nd Airborne Division died as a result of injuries sustained in a May 11 multi-vehicle accident on Fort Bragg, officials confirmed.

Spc. Javier Enrique Aguilar, 25, of Bryan, Texas suffered life-threatening injuries after his personal vehicle collided with a Light Medium Tactical Vehicle around 4 a.m. Tuesday on post, officials said.

He was an infantryman assigned to Bravo Company, 1st Battalion, 508th Parachute Infantry Regiment, 3rd Brigade Combat Team, 82nd Airborne Division.

"Spc. Javier Aguilar was a tremendous Paratrooper for Bravo Company, this battalion, and the 82d Airborne Division," said Lt. Col. Justin Reese, commander of the 1st Bn., 508th Parachute Infantry Regiment, the "1 Fury" battalion. "Our thoughts and prayers remain with his family During these extremely difficult times."

Aguilar joined the Army in March 2013. He was assigned to the 82nd Airborne Division in Aug. 2013.

Aguilar's awards and decorations include the Army Commendation Medal, Army Achievement Medal, National Defense Service Medal, Afghanistan Campaign Medal, Global War On Terror Service Medal, Army Service Ribbon, Overseas Service Ribbon, NATO Medal, the Expert Infantryman Badge and the Parachutist Badge.

He is survived by his wife, children, parents and brother.



=============
http://metroforensics.blogspot.com/2015/03/united-states-still-has-one-of-highest.html
UNITED STATES STILL HAS ONE OF THE HIGHEST ROAD ACCIDENT DEATH AND INJURY RATES IN THE WORLD: 34,000 DIE AND 2.5 MILLION INJURED EACH YEAR.
Despite the improvements in road safety, the United States has one of the highest death rates at about 1 person dead per 10,000 people. Unfortunately, only undeveloped countries have higher death rate.
Some states, such as Texas and West Virginia (sorry, WV, despite your tremendous progress in traffic safety, you are still at the top of the worst-death-rate list) have death rates of nearly 1.5 percent, i.e., fifty percent more people die compared to the national death rate.
Approximately 34,000 people are getting killed each year. In the 1950s and 1960s, about 55,000 people used to die on the roads – so, there has been improvement in the number of dead.
However, the number of injured is rising. Roughly 2.5 million are injured (yes, you read it correctly – 2.5 million injured) per year. That is, 1 percent (1%) of the population that is eligible to drive is injured every year.
It is worse than a war zone out there. So, please be safe and be on the lookout for weaving-through-the-traffic drivers, crazy drivers, reckless drivers, sick drivers, medical-condition drivers, sleepy drivers, negligent drivers, stupid drivers, careless drivers, drunk drivers, speeding drivers, drugged drivers, texting drivers, talking-on-the-phone drivers, looking-at-the-GPS drivers, hurry-hurry drivers, tailgating drivers, upset drivers, eating-while-driving drivers, putting-the-lipstick-on-while-driving drivers, elderly drivers, and so on.